Moose Lake, Sawyer County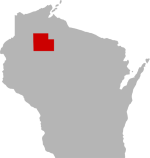 SHARE THIS PAGE
DISPLAYING 1 TO 10 OF 188 POSTS
FILTER OPTIONS
7/8/19 @ 10:31 AM
The water on Moose is ice tea color so pick lures for stained water. It's very clean water just stained. Orange seems to be a good color based on the 4 musky lures Mike at Jenks Bait helped me pick out last week. For small mouth bass try going up the Chippewa river just passed the bridge where it flows into Moose and then cast towards the bridge. We've caught a few 20"-22" smallmouth bass in that spot! Also hooked a musky in there.
7/8/19 @ 10:17 AM
Good morning all, my family will be staying on the lake from the 20-27th of this month, I wanted to see if anyone had any tips on lures to pick up before I make the trip. I've never really target muskie, but I should have plenty of time by myself to give it a shot since most of the family will sleep in. Will also be looking for eyes and bass. I am staying on the east side of the lake, pretty much straight across the lake from the Virgin Timber Resort.
Also, any tip on heading over the the Chippewa Flowage on where to put in and things to throw?
7/3/19 @ 8:25 PM
Mole summed it up pretty well. The water is really dark, like coffee and it's tough lake to figure out. It's the only lake where I've caught walleye at high noon, unfortunatly, as Mole indicated, they average about eight inches. The biggest I ever caught was a 15 incher and the next biggest was 12". I don't think Moose sees a lot of fishing pressure because there are so many lakes in area that are easier to find fish and have better fishing. That's just my two cents but check it out for yourself. It is a nice peaceful lake that has large sections of shoreline without many houses or cabins if that's worth anything to you. My family and I stayed at a resort on moose a few years ago but we had better fishing when we went over to the "Chip". I don't think the resort is even open any more. I guess that might tell you something about the fishing.
7/1/19 @ 9:15 AM
Supposedly a class A musky lake. I'm just getting into musky fishing so not much to report as I only have one 32" musky in the boat. Lots of walleye but they don't seem to grow very big. Not sure if the musky eat them or if it's because there isn't enough food or combo. Although this winter produced a few 18" walleye so maybe they are starting to grow. Good size crappies. When ice fishing I tend to catch crappies in the 10"-14" range. Lots of stumps and logs to get snagged on in the lake. Also had luck with some 21" small mouth bass so you can catch a mixed bag. Dark stained clean water so pick the right color lures. I'm just getting into fishing so consider myself a beginner. Been on the lake 6 yrs now.
7/10/18 @ 4:57 PM
FISHING REPORT
MOON PHASE (9%)
Waning Crescent
Went out from 730 to 11 today. Didnt see anything for a while and then boated a low 30's musky at about 10. Had another hit from something smaller and then boated an 18 inch musky. All within half hour. Didnt see anything else for another hour. I bet alot of follows go unseen in this lake!!! Thanks to whoever gave the tip about fishing the rockpiles on here. That's how I got the bigger one.
6/8/18 @ 6:16 AM
Fished Moose years ago. It can be a tough lake to fish, but there was one pattern that remained consistent. Just off the Virgin Timber resort there is, I believe Banana Island. Towards Virgin Timber the shelf drops off. I would anchor off that shelf in deeper water and either cast small orange and gold rapalas or slip bobber with minnows just before dusk. Get there early the first night and when the first bobber goes down, check your watch.....then show up the next night 10-15 minutes before that and get set up. The action was always fast and furious for 1/2 hour or so, but it sure was fun. Mostly caught walleyes, but did manage a few huge crappies too. Good luck and safe travels
DISPLAYING 1 TO 10 OF 188 POSTS