Moose Lake, Sawyer County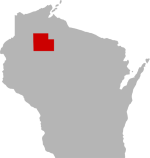 SHARE THIS PAGE
DISPLAYING 1 TO 10 OF 195 POSTS
FILTER OPTIONS
I'll be heading up to Moose lake for first time in mid July. Plan on primarily targeting walleye and crappie, but will also try for musky during prime bite windows if water temps are not too hot for ethical release. Not looking for any Hotspots or honey holes, but I'm wondering what type of structures/ water depths are best in mid July for walleye/crappie and if there is any advice on best rigs to use?
Seems like the lake has potential, but with the dark stained water I'm curious how deep (or shallow) the fish are midsummer. Any help is greatly appreciated! Hoping to have some action for my wife and daughter who will be joining me.
FISHING REPORT
Fishing on this lake a bit tougher than most. I did catch 6 walleye between 10" and 15", two 14" crappies, a few small crappies and a couple rock bass last weekend. I measured 14" of ice. Snow on top a bit slushy still. Areas to stay away from would be where the Chippewa river comes in. That ice over there is probably thinner and not safe.
FISHING REPORT
Went on a fishing trip with some good friends and family and fished Moose Lake between June 6 - 13 this year. I will say this is definitely a beautiful lake to fish but can be tough. We caught about 11 musky total in our group biggest being 33". A decent amount of walleye but were all under 14" Caught a few decent Small mouth with a few Footballs and also caught some decent crappie and perch. There was definitely some bi polar weather that week and notices a bunch of may flies mid week on the surface and on the graph. Hopefully that was the problem with the fishing. Most guys that came with brought their own boat and were able to move to the flowage and other lakes near by. My advice to you if you decide to stay on this lake is bring your own boat so you can be mobile if the fishing sucks!
DISPLAYING 1 TO 10 OF 195 POSTS