Moen Chain, Oneida County, Oneida County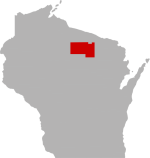 SHARE THIS PAGE
DISPLAYING 1 TO 10 OF 83 POSTS
FILTER OPTIONS
FISHING REPORT
Just got back from a week's stay on this chain. Trolling secondary breaks produced 2 muskies. Casting a rattle bait in the river produced the other muskie. The shallow water bite was non-existent.
Anyone on this page???
I am coming to a cabin on Moen Lake this weekend. My Canada trip was cancelled because of the border extending it's closure. I scrambled to find some place to go and settled on Moen Lake.
The Canada "crew" didn't want to fish upper WI so I am bringing my son who does not fish. He said he would go to keep my company. I plan to teach him how to use a bait caster, would LOVE to see him catch his first Pike or Musky.
We plan to fish for anything that wants to play along. From panfish for eating to CPR Bass, Pike, and Musky.
Is anyone will to give me any insight on the current fishing on the lake?
I'd be grateful...
DISPLAYING 1 TO 10 OF 83 POSTS