Mississippi River - Prarie Du Chien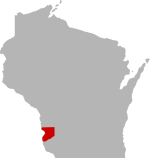 SHARE THIS PAGE
DISPLAYING 1 TO 10 OF 93 POSTS
FILTER OPTIONS
12/16/18 @ 7:45 PM
FISHING REPORT
MOON PHASE (62%)
Waxing Gibbous
Not in PDC area but want to help keeping the thread going. Fished Conway north of Lansing today from 12-4:15. A lot of sorting but a few gills and seen a few flags that where short bass or small pike.
12/16/18 @ 7:06 PM
FISHING REPORT
MOON PHASE (62%)
Waxing Gibbous
Fished spring lake from 6 to 11. The morning bite was the best from dawn to an hour past. Had a small school of perch roam through but no crappie. Did see a pike get caught on a tip down. Plenty of people out think I might do a little more walking next time to get away from the crowd.
5/29/15 @ 2:21 PM
FISHING REPORT
MOON PHASE (85%)
Waxing Gibbous
Fished a backwater yesterday in search of panfish. Did pretty well, with 2 of us keeping 32 nice bluegills and 8 crappies. Largest bluegill was just under 10 inches, and the largest crappie was just under 12 inches. Crappies were out on the ends of downed trees, biting on minnows. Bluegills were shallow. We caught some of the gills on plain gold hooks below a float, and the larger fish were caught using a blonde Bimbo Skunk with a piece of red worm.
Thanks for reading my reports, and have a good weekend!
John Bomkamp Guide Service
(608) 574-1580
DISPLAYING 1 TO 10 OF 93 POSTS