Milwaukee River, Milwaukee County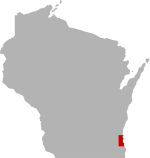 SHARE THIS PAGE
| | |
| --- | --- |
| | @ the lake |
COVID-19 MESSAGE
At Kwik Trip / Kwik Star, the well-being of our coworkers and our customers remains our top priority.
All of our stores remain open to service you.
Please read our message to our guests.
DISPLAYING 1 TO 10 OF 1,351 POSTS
FILTER OPTIONS
10/8/10 @ 1:03 PM
hey bp1357,
I've been trying for the salmon on the river the past few weeks around estrabrook and with the water low they're scarce up there. I'm taking a break from them and going to try for smallies and walleye again. I've had plenty of luck with the smallies throwing crankbaits and mepps but I've very rarely been able to catch the walleyes. Do you use the same technique for eyes as you would smallies? Or are you changing lure selection and location? I'm going out tomorrow evening south of estabrook, somewhere inbetween north ave and locust. Any tips would be appreciated. PM me if you want.
Thank you.
10/8/10 @ 9:52 AM
anyone else see this.... good luck fishies...
http://dnr.wi.gov/news/BreakingNews_Lookup.asp?id=1847
Lake sturgeon to be stocked in Milwaukee River as part of continuing effort to restore Lake Michigan sturgeon population News Release Published: September 29, 2010 by the South Central Region
Contact(s): Brad Eggold (414) 382-7921
MEDIA ADVISORY: Stocking will take place at Thiensville Village Park at 11:30 a.m. Directions: Mequon Road to Hwy 57 (Green Bay Road), travel north on Hwy 57. Keep to the right onto Green Bay Road, take the next right onto Elm St., travel east to the Park. Contact Brad Eggold if interested in a tour of the streamside rearing facility at the Riveredge Nature Center in Newburg.
MILWAUKEE – More than 1,000 large fingerling lake sturgeon will be stocked into the Milwaukee River on Saturday, Oct. 2, as part of an ongoing multi-agency effort to help restore lake sturgeon to Lake Michigan. Department of Natural Resources fisheries crews will stock the 6-to-8-inch fish at 11:30 a.m. just below the dam at Thiensville Village Park.
"This is an important step in the efforts to help restore lake sturgeon to Lake Michigan," said Brad Eggold, DNR's Southern Lake Michigan fisheries team supervisor. "The big difference between this stocking and other fish stocked by the department is that all the lake sturgeon were produced in a streamside rearing facility located in Newburg and operated in conjunction with Riveredge Nature Center."
For the fifth year in a row, Riveredge Nature Center has put together a Sturgeon Festival program to celebrate the release of the Lake Sturgeon including a blessing of the sturgeon by a Forest County Potawatomi medicine man. This event will start with registration at 10 a.m. For more details, check out the Riveredge Nature Center website at [riveredge.us> (exit DNR). Click on the link for Sturgeon Fest 2010.
"We are very fortunate to have this great support from the Riveredge Nature Center. Without the cooperation of the center, staff and its volunteers, this project could not have been completed. They have provided the location for the trailer and more importantly, have provided the support for the day-to-day operation of the facility. Without their involvement we would not have any fish to stock."
A streamside rearing facility is basically a mini-hatchery. Water is drawn from the Milwaukee River, pumped into sand filters and then into an 8-by-20-foot trailer. In this trailer are four fish raceways capable of holding a total of 1,000 lake sturgeon when full. Prior to 2006, stockings in the Milwaukee River were from lake sturgeon raised at the Wild Rose Fish Hatchery.
"The primary benefit of using a streamside rearing facility for lake sturgeon is that they will be raised on a native water source throughout their entire early life. This will maximize their ability to imprint to this water source and greatly improve the odds that, at maturity, the sturgeon will return to the Milwaukee River to spawn, which is the ultimate goal."
The Milwaukee River sturgeon stocking project is funded through a cooperative effort among agencies and public partners. Wisconsin DNR, the Great Lakes Fishery Trust and the U.S. Fish and Wildlife provide the majority of the funding.
Lake sturgeon can grow to 200 pounds and live 100 years. Female sturgeon don't start spawning until they are 20 to 25 years old, and males start at about 15 years old.
Getting to adulthood will be a challenge for the sturgeon, Eggold said. DNR surveys of the river reveal good habitat for young fish, overwintering and spawning areas, but the lake sturgeon must first survive these initial months, and then subsequent years of eluding predators and finding sufficient food.
Even then, as the survivors begin their spawning runs, they'll still encounter some obstacles: namely, remaining dams on the Milwaukee River. Eggold hopes DNR can work with dam owners in coming years so they operate the dams or remove or change the structures to allow the fish to migrate.
10/6/10 @ 3:36 PM
FISHING REPORT
the fishing was great 13/20. my self 0/5 but one of the hogs my friend caught ran 400yrds down river,not even a chance to turn'em,stop'em,would have made great u tube vid.the fish are not stacked but the #s r good i've been fishing more out of the places it seems 2 b working
10/4/10 @ 9:55 PM
FISHING REPORT
saw some fish as soon as open the car door @10:30. 3 of us fished [2 fly 1 hard baits> from 10:30 4pm went 5/12 a lot of spit hooks and broken lines
4lb takes an easy touch on these monsters.black /silver silver / blue was the ticket w/hardbait and a really slooow retrive ticking off the bottom.at 3:15 the dinner bell must have gone off because the action picked up.people all around started catching/hooking fish.the shade line from the trees seem 2b the strike zone,i could just thinking too much?weather was good, waters cold, fish r in,
fish on
DISPLAYING 1 TO 10 OF 1,351 POSTS