Menomonee River by Miller Park, Milwaukee County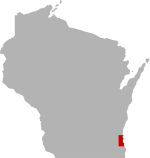 SHARE THIS PAGE
DISPLAYING 1 TO 10 OF 911 POSTS
FILTER OPTIONS
4/12/19 @ 6:24 PM
FISHING REPORT
Went out today primarily targeting suckers with a 3 way rig. River is about 2' high at the moment and very cloudy. River empty's fast though so should be down in a couple days. Seen zero fish, not even a sucker.
4/11/19 @ 4:45 PM
FISHING REPORT
MOON PHASE (38%)
Waxing Crescent
All the fish from this weekend have seemed to move out with the exception of the same few I've seen all season. The suckers have come in surprising numbers, I seen at least 50 of them in a small stretch of river. Can't seem to get the steelhead to bite on anything until you cast enough to piss them off. May go back tomorrow or Saturday. Will report back.
4/7/19 @ 3:43 PM
FISHING REPORT
MOON PHASE (6%)
Waxing Crescent
Lots more fish this weekend. Saw many guys catching fish with spawn sacs and flies. River is low again and fish are easy to spot. Try and avoid the schools of suckers...they scare the steelhead away.
4/7/19 @ 11:38 AM
go2fish
No problem. I was just asking cause I used to live near the river in several places from north west Milwaukee to Menomonee falls and fished most of that stretch of the river when I was younger and know that it is shallow and skinny most times and was unaware of all the dams being removed.
Thanks for extra information fish to live & live to fish
PM's welcomed
DISPLAYING 1 TO 10 OF 911 POSTS