Mendota Catfish, Dane County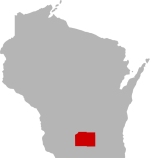 SHARE THIS PAGE
| | |
| --- | --- |
| | @ the lake |
DISPLAYING 1 TO 10 OF 301 POSTS
FILTER OPTIONS
7/18/19 @ 10:28 PM
FISHING REPORT
MOON PHASE (97%)
Waning Gibbous
The fishing gods were good to me tonight. She weighed in just shy of 35 pounds. Caught on a cut sucker on 12 LB mono. I was targeting Carp so I really didn't bring my A-Game for Cats tonight. Just an afterthought, really. I was VERY lucky to have landed her. Just shows you never know what's going to happen when you put a bait in the water around here.

Released in good order. MANY thanks to the fellow that helped me out with the net and photos. She blew away my previous PB (22.7 LB) by over 12 pounds. In all the excitement I forgot to take a length measurement :-(. Now I need to find that elusive 30 pound Carp!

6/9/19 @ 7:03 AM
FISHING REPORT
MOON PHASE (44%)
Waxing Crescent
8/29/18 @ 11:48 AM
The Sept 1 event has been cancelled due to high water and "NO WAKE" restrictions. It has been re-scheduled to Saturday Sept. 29, 2018 starting at 7am. Please contact me with details. Participants get 1 free yr updates on your Navionics chart and a free Navionics hat and there will be a drawing for a free chart. Please contact me if you need more information. I have a info sheet I can email you with more details. Thanks! Greg Ollila gollila@wi.rr.com, 262-960-8220, or PM me. #Navionics
8/25/18 @ 9:48 PM
FISHING REPORT
MOON PHASE (99%)
Waxing Gibbous
This is one of those days when my username reminded me of why I chose it. My wife and I decided to checkout the water level on Mendota and fully expecting to just end up having a quiet day on the water, we were pleasantly surprised.
The water is very high. The cement ramps are under water at Captain Bill's (Middleton) so you have to wade thru about a foot of water to get on the docks. Your exhaust gets submerged, but you get launched.
We did are no-wake puttin trolling as we went. Nothin' doing. We ended up about a 1/4 mile south of Marshall Park and decided to anchor. At 2:34 pm. I thought why not. Popped on a yellow and orange jig, lipped a minnow and set it a foot off the bottom.
My wife throws out half a crawler and gets a nice white bass. We joke about not getting "skunked" after 3 hours of site seeing.
I get a huge bite. I spend the next 15 minutes bringing a 39 inch channel cat into the boat, using an ultra rod and reel.
Don't know how much this cat weighed, but it made for one of the best outings in a long time.
So if you are wondering, Jig-Or-Not, wonder no more!

DISPLAYING 1 TO 10 OF 301 POSTS