Mary Lake (Marie), Kenosha County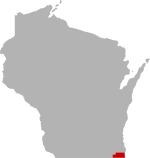 SHARE THIS PAGE
| | |
| --- | --- |
| | @ the lake |
DISPLAYING 1 TO 10 OF 328 POSTS
FILTER OPTIONS
2/1/20 @ 1:38 PM
Ice shanty was stolen of off the ice thismorning between 9am and 10am. Was located on lake mary, right on the rock pile . If anybody knows who the low life was who decided to take my cabelas xl2000 popup hub please contact me or the police. The info im getting from others on the ice is that the fisher in a shanty next to mine. Walked over and took down the shanty like it was his and headed toward lance park launch. Stay vigilant my friends we have thiefs among us!
1/21/18 @ 5:44 AM
FISHING REPORT
MOON PHASE (19%)
Waxing Crescent
Late report. Fished wed thur last week before and after the storm. Plenty of dink perch and gills to keep you busy. Had 8 flags but only managed too get the one pictured and a smaller snake northern. All fish were released including the walleye......guess I'm getting lazy when it comes to cleaning fish this year. All fish were caught in 10 to 12 feet.
1/10/17 @ 8:16 PM
FISHING REPORT
MOON PHASE (96%)
Waxing Gibbous
fished the north side on sunday the 8th. Had 1 flag but no fish. Good evening but no fishing luck. ice was atleast 10 in. vehicles were driving out.

DISPLAYING 1 TO 10 OF 328 POSTS