Maria Lake, Green Lake County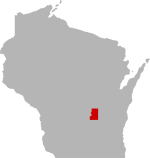 SHARE THIS PAGE
| | |
| --- | --- |
| | @ the lake |
COVID-19 MESSAGE
At Kwik Trip / Kwik Star, the well-being of our coworkers and our customers remains our top priority.
All of our stores remain open to service you.
Please read our message to our guests.
DISPLAYING 1 TO 9 OF 9 POSTS
FILTER OPTIONS
12/10/12 @ 4:29 PM
I've considered fishing it, but with so many other proven lakes within an hour of where I live, it's hard to "waste" a morning scouting/prospecting an unknown lake like this when I could just be on Fox or Mendota producing action. Maybe I'll try it next year during the open water season, maybe I'll stumble onto a gold mine of fish. I did drive down the launch last week and the lake is low, I'd say about 2 ft, but that is typical for this area. Maybe some hard water fishermen can give it a try.
DISPLAYING 1 TO 9 OF 9 POSTS