manitowoc river, Manitowoc County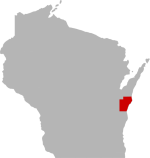 SHARE THIS PAGE
DISPLAYING 1 TO 10 OF 365 POSTS
FILTER OPTIONS
Thanks keepermovin. I had went for an hour yesterday, had one hit but missed him, had another brother tell me they put in work on Sunday when it was rainy out and the fishing was alittle better. I could see yesterday alot of movement in the water, felt like they are in there but just not falling for it. Like you said, water looks like shit. I might try and get an hour in before work today, if anything gives I'll post.
76oldschool
You are not alone, nor missing anything. This has been the weakest salmon run ever, by far.
They are planting about 50-60% less fish than they did earlier in the decade...but I also think the drenching rains and exceptionally muddy water are posing problems, too. While rain is generally a good thing most years...I think in this case the water might be so silty that the fish have a hard time locating the bait unless you drag it 2" in front of their nose. Just a guess.
Here is a handy link to the WDNR stocking database so you can see the vastly lower numbers of fish being stocked for yourself.
https://infotrek.er.usgs.gov/doc/wdnr_biology/Public_Stocking/StateMapHotspotsAllYears.htm
FISHING REPORT
Fished Manitowoc river twice to three times a week this whole salmon run this year, things have never been slower. Last week they were there and still even then hard to come by. Put six hours in yesterday and not a bite with spawn sac, spoons, cranks, thundersticks, spinners, champs, and didn't even see but maybe one fish surface. Stopped by the dam around noon just to see if they are all maybe just past the areas I fish but only one fish between a dozen guys and was told it was a brown, I just dofn't get it this year. Am I missing something? I heard one guy tell me there was stocking issues but I don't know. I Know I just am not to early, it just really feels like they just are not there like previous years. One fish for the year? (Lost two last week) but still, am I alone?
DISPLAYING 1 TO 10 OF 365 POSTS