manitowoc river, Manitowoc County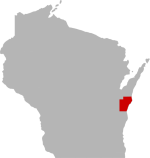 SHARE THIS PAGE
DISPLAYING 1 TO 10 OF 375 POSTS
FILTER OPTIONS
3/15/19 @ 3:15 PM
FISHING REPORT
MOON PHASE (64%)
Waxing Gibbous
https://www.youtube.com/channel/UC7tdopdXptAyRUdgZv6xNkw?sub_confirmation=1

This report is from the Sheboygan River, but tactics used can be applied to the Manitowoc River as well. If you have ever wondered how to ice fish for trout through the ice on the tributaries to Lake Michigan, this video has everything you need. My videos are done in a vlog style. A vlog is a video log, sort of like a diary entry. It is always my goal to show people something new and give them some information to try it themselves. If you like vlog-style videos packed with information, feel free to subscribe to my channel. I have been making videos for about a month now, and I'm really loving it. Check it out and, as always, thanks for watching!
3/12/19 @ 10:20 AM
Accucaster it all depends on the season of winter. Last year it was open by now, as of yesterday it is completely locked up and a lot of ice, will be a while. Not to mention when it does break up the ice jams and water clarity could be horrible if we have a quick run off. It might be fast and furious for a while. The usgs website gives a lot of helpful info on water flow and temperature with daily updates, I recommend watching that and learning what trends on the graph is good fishing scenarios, Google manitowac river flow and a usgs site will pop up, you can do this for a lot of big rivers. So to sum that all up, no, manitowac will not be worth fishing this weekend
2/18/16 @ 12:57 PM
Was hoping to gets some info about steelhead on this river do the fish run up this entire section ( Cato) or is it mainly near manitowoc areas. Looking to find more spots this spring. Also new to the centerpin this year any advice on casts to learn easy and effective. Not looking for exact spots on river just general info on how far they run up
6/22/15 @ 1:02 PM
I am new to the area and looking for suggestions for fishing the Manitowoc river. I am only able to fish from shore so locations of those hidey holes would be helpful if you would be willing to share. Also would like to know the species I can expect and best lures to use. I understand that the salmon and trout runs are only spring and fall but would appreciate info on that as well. I know I'm asking for a lot but really do enjoy just getting out and wetting a line. Thanks for any help
4/6/15 @ 3:36 PM
jawsmama1 - Usually ( using the term loosely), the Manty. will clear to a float-able/c-pinable state within 48 hrs. post a moderate to light precip. event. The turbidity, clarity, etc. are attributes entirely reliant on the amount of pecip.; as I'm sure you're aware of. Also, the NOAA/WDNR flow - sties are great for loose interpretation on what you may experience upon your trek - just remember all is relevant to personal interpretation. Good luck & hope I was of some assistance.
DISPLAYING 1 TO 10 OF 375 POSTS