Manawa Mill Pond, Waupaca County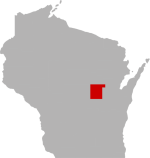 SHARE THIS PAGE
| | |
| --- | --- |
| | @ the lake |
DISPLAYING 1 TO 10 OF 394 POSTS
FILTER OPTIONS
1/31/17 @ 6:27 PM
FISHING REPORT
MOON PHASE (15%)
Waxing Crescent
Fished from 1-4. Caught 25 gills. All dinks & still swimming. No flags on northern pike.
Action was steady. Drilled about 10 holes and fished em all. Wax worms on chartreuse jig with a small red dot. Also pink and white Gill pill worked good. Fish have already been small for the most part all year. Northern are hard to come by.
1/29/17 @ 11:41 PM
FISHING REPORT
MOON PHASE (3%)
Waxing Crescent
Got skunked!! Good ice 15" every hole.. landing is rough..plenty of trucks out there... Threw everything I had down holes with no results...didn't see a thing on camera...won't be back...
1/15/17 @ 1:44 PM
FISHING REPORT
MOON PHASE (87%)
Waning Gibbous
Yesterday....Fished 9-1 and caught 8 small bluegills. One flag no northern. Saw 3 fairly nice ones caught.
Today fished 9-11:30 and caught 25 gills . Kept 7 the rest all little ones. Very few people out today. Didn't see any flags or pike caught. Wax worms on a tiny black jig with a spot of yellow was best or black also worked well. Lots of weeds yet in some areas.
DISPLAYING 1 TO 10 OF 394 POSTS