Machickanee Flowage (Stiles), Oconto County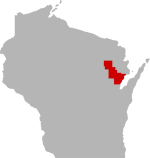 SHARE THIS PAGE
DISPLAYING 1 TO 9 OF 9 POSTS
FILTER OPTIONS
12/10/18 @ 11:46 AM
FISHING REPORT
MOON PHASE (11%)
Waxing Crescent
Went out Saturday and Sunday. A solid 5-7 inches depending on where you were. Set out tip ups for pike (caught one small one) and did some jigging. I have not fished this water for probably 15 years, and it seems to have changed from a fairly weedy flat to a large plain that doesn't vary too much in depth or structure. Caught numerous small perch, but nothing worth keeping. Did they do some work here like dredging or something? Used to be full of ice fisherman years ago, and now only one other person both days. Any advice on this water would be appreciated.
5/31/18 @ 4:26 PM
FISHING REPORT
MOON PHASE (96%)
Waning Gibbous
Tried all favorite places today no Bluegills found. Talked to a man who lived upriver and said he was told the fish were all froze out this winter.But there are no weeds also. Was there another weed and fish kill program again?
5/13/14 @ 6:06 PM
Hey, just want to let everybody know about the new Fish Oconto Facebook page. In addition to visiting here, and I hope you continue to do so, please like my new page and post reports on your fishing results in the lower Oconto, breakwater area, and out of Oconto on the Bay.
Would love to see you.
https://www.facebook.com/ocontofishing
Dane
DISPLAYING 1 TO 9 OF 9 POSTS