Machickanee Flowage (Stiles), Oconto County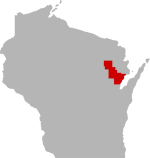 SHARE THIS PAGE
| | |
| --- | --- |
| | @ the lake |
DISPLAYING 1 TO 10 OF 14 POSTS
FILTER OPTIONS
8/17/20 @ 6:44 PM
no they did not kill the weeds. With all the rain we've been getting that kinda slows the eurasian invasive species down quite a bit. Couple years ago I would average a 4lber out of here all the time. Most of them are old and probably died. Couple years ago if you guys remember the freeze over with alot of little lake around green bay killed off all the fish. Lilly Lake, Shea just to name a few. I believe this impacted the fishier there too. We were bank fishing 4 or 5 years ago and seen tons of dead fish on the shore maybe a freeze over there too or weed control killed off alot of healthy bass. I fished here almost every weekend not to give up on this lake and I think its done for a while. Not once caught a 4lber out here at all. You could toss a senko all day and catch them. Now you have to work your ass off just to get a 2lber to bite. The rock side still Ok tho just not the quality this lake use to produce.
9/5/19 @ 10:40 PM
FISHING REPORT
Wow. No reports at all this year ?

Went out Monday afternoon and soaked some crawlers and leeches - couldn't buy a bite.

Tried shallow weed edges, deep, drop-offs. Nada. Right before we had to leave tried fishing the wll near the dam and got a few nibbles, but that was it.
12/10/18 @ 11:46 AM
FISHING REPORT
MOON PHASE (11%)
Waxing Crescent
Went out Saturday and Sunday. A solid 5-7 inches depending on where you were. Set out tip ups for pike (caught one small one) and did some jigging. I have not fished this water for probably 15 years, and it seems to have changed from a fairly weedy flat to a large plain that doesn't vary too much in depth or structure. Caught numerous small perch, but nothing worth keeping. Did they do some work here like dredging or something? Used to be full of ice fisherman years ago, and now only one other person both days. Any advice on this water would be appreciated.
DISPLAYING 1 TO 10 OF 14 POSTS