Lulu Lake, Walworth County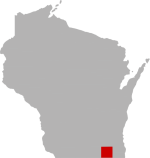 SHARE THIS PAGE
| | |
| --- | --- |
| | @ the lake |
DISPLAYING 1 TO 10 OF 37 POSTS
FILTER OPTIONS
8/21/18 @ 6:26 PM
RJFisher,
There are crappie in Lulu, as there are in Eagle Spring, but it seems only in certain areas of the lake. The big problem, IMO, on Lulu and Eagle Spring, are the carp. Especially on Lulu they have rooted up the bottom so bad that almost all the deeper weed beds are gone. And that is the key to finding the crappie hangouts. For a number of years bluegill and crappie seemed to be pretty scarce on these two connected lakes; hence the 10 limit panfish was instituted. Now it seems that Eagle Spring has an over abundance of small (stunted?) gills and Lulu still seems to be somewhat "gill shy". With that said I did catch a 10 fish limit of crappies that were about 9 to 10 inches but very thick across the shoulders in late June this summer from Lulu. All on 1 inch Gulp minnows. But you have to find those deeper weed beds and that is the conundrum. The pencil reeds from years ago are mostly gone and the small patches you do find have been silted in. Hope this helps. Lulu used to be one of my favorite lakes "back in the day". And you're right about all the small bass on both lakes actually. That's why you are encouraged to keep 3 under 14 inches.
Jim
8/21/18 @ 4:54 PM
FISHING REPORT
MOON PHASE (81%)
Waxing Gibbous
The most recent post I could find for Lulu was in 2014. That surprised me. I've found Lulu to be a great lake for bluegill. I've studied their habits on this lake and have never come up short on a limit of keepers. On this lake, an eight inch gill is a keeper.
There are a good number smaller bass as well (8 to 12 inches are common) and I enjoy catching and keeping my limit. In the five years I've been fishing Lulu I've only landed one northern pike, but he was also a keeper at just over 32 inches. I've seen others, just could not get them to bite.
I'm wanting to catch crappie but it seems the population is sparse from what I've read. Not suggesting all posts are accurate but when guys make generic statements like "the crappie are all fished out" I'm always a bit suspicious and all of us know those are often statements of frustration.
In summation, great lake for bluegill, great lake for bass under 13 inches, northern pike are present as are crappie. My job now is to get to know their habits and I'll just bet on a good day, a guy could limit out on very nice crappie on Lulu. Beautiful lake for sure.
7/28/13 @ 9:45 AM
FISHING REPORT
Caught a couple of bass (small),We were after bluegills and have always limited in past years.(10) Usually nice fish. Well, We didn't catch a one. Fished 4 till dark.Cold front must have shut them down. Nothing hitting the surface either.We did mark alot of fish suspended 10 to 30 ft. down.
7/1/13 @ 6:39 AM
FISHING REPORT
Fished here yesterday with my dad in the morning. We took home our 6 bass, 5 of them 13 inches and one 11 inch. I also caught a few bluegills but none had any size to them. Kept 3 that swallowed the hook. All but one of the bass had small bluegills in their stomachs.
I can remember about 10 or 12 years ago finding some very nice bluegills in this lake when they were spawning. We released them all to do their thing. That was before they imposed a 10 fish limit too. The lake definitely has less weeds now than it did 10 years ago.
6/28/13 @ 6:41 PM
I remember there were a lot of pencil reeds to the right (south) of the old beach and you're right about the big gills that came in there to spawn. The old pier pilings are still there on the Northwest shore and we used to get some nice crappies there but not for a long time now. Not since farmer Don Schwartz used to live on "J" and would allow you to drive through his land down to a little launch that he had. The Nature Conservancy owns all that land now and the old trailer park campground is long gone, too. Many fond memories on Lulu. Eagle Spring is a completely different kind of lake and actually has lots of nice bluegills, perch, rock bass, and Bass and Northern. Can't find the crappies. Got a few last winter ice fishing but not too many. It also has lots of carp but being so shallow and fairly large they haven't been a problem with rooting up the weeds yet. I don't think many fish pass between the lakes via the river, probably because of the distance, I don't know. I know the DNR doesn't do any managing of Lulu for fishing but I guess they want it more for a scenic preserve, which is fine. Just don't expect much on the fishing side. It is fun though with surface lures to fish for the bass. Jim
6/28/13 @ 6:38 AM
I used to fish Lulu when I lived at Eagle Springs . My wife went to grade school at Eagleville School . Her Dad is now 91 and fished there since the mid 50's . There wasn't a carp problem all the way through the late 70's . Before that , Lulu had a private campground on the south side , and there was pencil reeds on many shoreline locations . When the bluegills were spawning , they were big ones . Drift fishing them in the summer deep , was a good way to get big gills also . Bass fishing with Hula Poppers was always fun in the evenings . Nice that it is a natural area but, the carp destroyed everything . Hope they can be removed !
DISPLAYING 1 TO 10 OF 37 POSTS