Ludington Lake, Forest County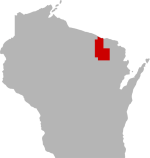 SHARE THIS PAGE
DISPLAYING 1 TO 4 OF 4 POSTS
FILTER OPTIONS
1/19/20 @ 6:22 PM
I have been getting a ton of e-mail questions so I hope the following helps. I will share what I know and what I do if you want to know, but You have to put in the time to find the fish, and when you find them it is a battle to get them on the ice.
The jig is Tungsten 1/32
The leader is 18in long 2lb. ice.
I use a Humminbird Helix 5 ice.
The rod is tiped with a spring bobber. snap on from Fleet Farm.
Small Minnow hooked through the back right under the dorsal fin.
The trick is to watch the flasher and rod tip, when one comes on the jig and the rod tip even wiggles, set the hook, donot let him take it and spit it back out before you respond.
4/11/18 @ 9:08 PM
FISHING REPORT
MOON PHASE (20%)
Waning Crescent
Had to walk out due to slush and water under about 10" of snow. drilled holes at 1 1/2' - 4' - and 6' of water. used wax worms and small minnows at each hole side by side. 3 hours and not a single bite.

DISPLAYING 1 TO 4 OF 4 POSTS