Lower Genesee, Waukesha County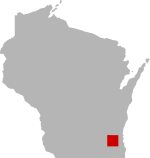 SHARE THIS PAGE
DISPLAYING 1 TO 10 OF 295 POSTS
FILTER OPTIONS
FISHING REPORT
Fished from ~2pm to ~5:30pm along the southwestern side. Had holes anywhere from 5 FoW to 20 FoW. Got 1 pike right away in 6 FoW over some weeds on a medium shiner on a tip up. No fish for the rest of the day. Jigged waxies, fatheads, and rosies in 6 FoW and 20 FoW and got nothing. Actually marked fish in 20 FoW. No idea what it was, something suspended maybe 3 feet off the bottom that just watched my jig for a bit and then swam off. It seemed like there were fish right on the bottom too.
FISHING REPORT
I've fished all 3 Genesee lakes a good bit every year, and Upper Genesee 3 times this ice season already. I've never caught any perch bigger than 6 or 7 inches out of any of the lakes, and only a few crappie out of upper. The bite on upper is normally my favorite, and it's been so slow I'm done fishing for the ice season. Try Forest Lake for crappie or Spring Lake in Palmyra for perch, crappie, and pike.
FISHING REPORT
Fished yesterday from ~4:30 to 8:00pm. Setup tipups and jigged in anywhere between 6 and 25 FoW. Caught absolutely nothing. Jigged waxies, spikes, and small rosy reds. Small and Large shiners on tipups. Just couldn't find fish, thought I marked a few but just couldn't get a bite. Another group was out that evening and they also didn't catch anything. Any tips for where some fish might be? Looking to jig for crappie and perch if they are in this lake and get a pike on a tipup.
Found solid 4+ inches everywhere I went, but when I came out to the lake to scout on Sunday I was able to put the spud bar through the ice with two swings in a couple wet looking spots. I would still use a spud bar, wouldn't be surprised if there are a couple thin spots still until we get a nice string of teens and lower temps.
DISPLAYING 1 TO 10 OF 295 POSTS