Lost Land Lake, Sawyer County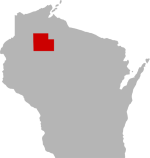 SHARE THIS PAGE
DISPLAYING 1 TO 10 OF 154 POSTS
FILTER OPTIONS
That's good to hear. More people need to take hot water into consideration. Many guys view it as a renewable resource. They don't take into consideration the amount of time it takes to grow fish in our systems. It's truly irresponsible. To answer your question, I haven't been on LL or Teal for awhile. I've been on other very similar water in the area and they are all running 74ish in the mornings to 76ish in the evenings. supposed to have hot days again this week, so I'd assume they will hold steady for another week.
Thanks Wright for the info. How's the water temp? I was up in July and when we arrived it was 82. When we left it was 76. We kept the musky tackle in the truck for the first part of the week due to the temps. I was amazed to see how many people were musky fishing with water temps in the 80's.
Crappie and walleye outside Wilson creek early and late. Cast for Musky and Bass any where you see weeds, shallow deep or in between. We use spoons no longer then 4" and it's an action Musky lake. The channel between LLL and Teal is loaded with weeds, wood, pads and pan fish. That should keep you busy for a few day's.
Got well above 80 degrees yesterday. I'd think with the rain and cooler days to come it will get back to that 76 range where its been the last week or so, but it looks like it's going to get real warm again late next week. It doesn't take a ton of heat to push the water into that high danger zone this time of year.
DISPLAYING 1 TO 10 OF 154 POSTS