Loon Lake, Shawano County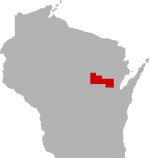 SHARE THIS PAGE
DISPLAYING 1 TO 10 OF 207 POSTS
FILTER OPTIONS
Try dropping a lantern on the ice after dark in the hole off the island. I've never caught anything huge, but the crappie action can get pretty hot. If you try it, let me know what you think. Message me or whatever. I'm curious how you do. I've also don't this on Montana, Veil, and Washington. White Clay. Seems to work on little lakes with little structure over the holes.
FISHING REPORT
Was there 12-26-20, solid black ice of 5" in the places we went, and that was 4 days ago with plenty of cold since then. All good South of the island and for a good distance around it. There was a beaver trapper who lives in the area and warned us of potential thin ice and open water (any time of the year) in the Northwest portions of the lake where springs flow in.
Fished various locations from the south ramp along the west shore and around the island. Nothing biting. Suspect the clear ice made for easy spooking of fish [there was no snow at the time but it has since snowed over]. Kids had fun slipping and scooting around.
DISPLAYING 1 TO 10 OF 207 POSTS