Little Green Lake, Green Lake County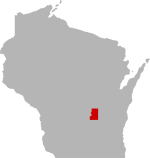 SHARE THIS PAGE
DISPLAYING 1 TO 10 OF 15 POSTS
FILTER OPTIONS
8/29/16 @ 7:27 AM
FISHING REPORT
MOON PHASE (8%)
Waning Crescent
Fished Friday and had one huge Musky follow up on a small crankbait, was not ready for that, but it was awesome none the less.
Got no fish Friday using leeches, crawlers, minnows and lures. Marked them all over but no takers. Saturday between the rain we were out on and off, again no fish using all of the above. Tough out there right now it seems... spent about 6 total hours fishing Saturday and got nothing.
8/3/16 @ 11:50 AM
FISHING REPORT
MOON PHASE (1%)
Waxing Crescent
Went out last night in 15 FOW casting and jigging, nothing. Moved just outside the rockpile casting and jigging, nothing. Tried crawlers deep and shallow around the rock pile, nothing. Drove around whipping Musky lures, nothing. Trolled around the lake and ended up being skunked. I gave it about 2 hours from 5 to 7pm. I might go tonight from 7 to 9pm and try my luck again...
Anyone getting anything?
8/1/16 @ 7:27 AM
FISHING REPORT
MOON PHASE (2%)
Waning Crescent
Fished the rock-pile Thursday and Saturday for a while. Got bluegills on leeches and bass on lures. Not a killer bite but if a guy wants to get some decent bluegills, there out there still. As far as anything close to shore, its been a tough bite recently. Personally have not gotten much off the dock and most of the boats going by targeting bass have said the same.
7/31/16 @ 5:34 PM
FISHING REPORT
MOON PHASE (6%)
Waning Crescent
Tried for Bass on Sat , but recent rains made the water brown in color. Made it hard for the fish to find the bait. Fished from 730 to noon and 3 of us only had three fish...Nothing big Had good time anyway!
DISPLAYING 1 TO 10 OF 15 POSTS