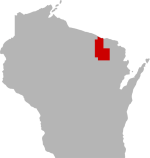 SHARE THIS PAGE
DISPLAYING 1 TO 10 OF 107 POSTS
FILTER OPTIONS
12/14/19 @ 6:05 PM
FISHING REPORT
MOON PHASE (93%)
Waning Gibbous
Went down to boat landing today to check one the ice. 4 guys out on the ice, walked out, ice was about 5" with lots of snow and slush. If you don't have tracks your not getting on the lake.
10/3/19 @ 5:33 PM
FISHING REPORT
MOON PHASE (30%)
Waxing Crescent
8/26/19 @ 9:46 PM
FISHING REPORT
MOON PHASE (19%)
Waning Crescent
12/31/17 @ 6:15 PM
FISHING REPORT
MOON PHASE (97%)
Waxing Gibbous
Got out for the first time in a long time. Cold and we are eating skunk tonight. About a dozen different guys out. No one doing much on tip ups or jigging. Just nice to be out and test the gear. Two trucks driving out and one car.
9/18/17 @ 8:23 AM
FISHING REPORT
MOON PHASE (3%)
Waning Crescent
Targeted musky for 3 hours on Saturday late afternoon. First time on the lake so we were exploring many different spots. Couldn't find one green weed anywhere in the lake! Just a lot of black smelly soot like stuff on the bottom. Very disappointing based on some articles I have read earlier in the year. Will not be back anytime soon.
7/23/16 @ 11:12 AM
FISHING REPORT
MOON PHASE (84%)
Waning Gibbous
Fished this lake all day 7/15/16. Found and fished rock pile on sonar and numerous cribs. Also fished rocky drop offs and shallow flats. Fished them all with minnows, Walleye suckers, worms, and leeches. Casted for muskie with entire array of lures. No bites, no hits entire day. Marked fish in 8 - 10 fow but nothing biting.
DISPLAYING 1 TO 10 OF 107 POSTS