Left Foot Lake, Marinette County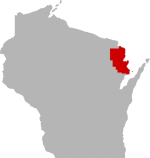 SHARE THIS PAGE
DISPLAYING 31 TO 40 OF 77 POSTS
FILTER OPTIONS
12/6/08 @ 7:26 PM
Just a ice report a Friend said today he measured only 3" of ice on Left foot then went to the sandstone landing north of the airport on W and measured 6" out by the shack somebody pulled out with a vehicle (saw the tire tracks) from the boat landing off Hideaway lane..
5/17/08 @ 5:48 PM
FISHING REPORT
fished here friday 2;30-9 pm...first time ever on this lake and it showed. i had a really tough time especially since im not used to fishing clear water. caught a 14 incher and a 12 incher and that was it. no doubt there are lots of bass in here as you can see them 10 feet down as well as cruising the shallows but once you see them its too late. also so one pike and very few pannies
5/11/08 @ 8:06 PM
good question...according to a book i have it doesnt mention walleye...it is deep enough so who knows maybe there is still some around. i dont think they have stocked anything but trout in there in recent years. i have never fished here but will definately give it a try this summer and report back! anyone fish largemouth on left foot?
DISPLAYING 31 TO 40 OF 77 POSTS