Lake Noquebay, Marinette County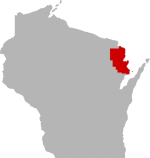 SHARE THIS PAGE
DISPLAYING 1 TO 10 OF 2,030 POSTS
FILTER OPTIONS
FISHING REPORT
Went fishing for bass today from 7 to 11:30. Caught 6 bass, the biggest was 18.5". All of our fish came off of docks, and reeds that had pads mixed in. I tried fishing drop offs and deeper off shore grass but caught nothing. Not much grass either, I didn't know they ran the harvesters all summer long.
FISHING REPORT
Surely doesn't help that they're running those weed harvesters so early in the season. Sure, some small pike will be patrolling those new pathways through the weeds but all my largemouth bass, walleye and panfish patterns have shut off completely.
What possible good does it do to rip the weeds out of the bottom such that you have vast mats of weeds on the surface, on the shorelines, and in the boat launch? And tons of suspended weeds everywhere.
I swear, I will never understand the value of mechanically harvesting weeds out of that lake.
Rant over.
FISHING REPORT
So no one posting reports, can't give up those secret spots? Anyway I got 21 real nice gills this morning, went out at daybreak. Gills are still in deep water, 8 to 10 feet on the edges of the new growth cabbage weeds. Still on a bobber 3 feet down with a 1/3 of a night crawler. Most were spawned out and water was 79 degrees. Had one today that was a bit over 10", many others pushing 9" and as stated last time, keep moving, they seem to spook pretty quick in the clear water.
FISHING REPORT
Been getting some nice gills the last two weeks but not slaying them by any means. Water was up to 67 this morning and will only go up this weekend. Been finding fish in deeper water, around 8 feet with green cabbage weeds. The milfoil has taken over so much of this lake I think the gills are spawning in deep water again this year. I've seen very few beds in the shallows. I had ten keepers today and only one pumpkin seed still had eggs. Been using worms below a bobber about 3 feet down and you really need to keep moving.
DISPLAYING 1 TO 10 OF 2,030 POSTS