Lake Michigan-Kenosha, Kenosha County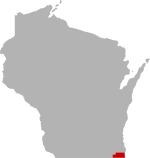 SHARE THIS PAGE
| | |
| --- | --- |
| | @ the lake |
DISPLAYING 1 TO 10 OF 744 POSTS
FILTER OPTIONS
7/28/19 @ 10:30 PM
FISHING REPORT
MOON PHASE (15%)
Waning Crescent
So finally got out today. After some helpful information went striaght out to 100 FOW and head straight south. Went out to 120 and nothing. Headed back south and finally broke the ice with a nice six pound coho. Had a nice king on all the way to the boat and I choked on netting the fish. It was my daughters first trip out but successful and happy she got to reel them in. She got a bit sea sick afterwards so we headed in. Still a nice day on the water.
7/5/19 @ 9:44 PM
FISHING REPORT
MOON PHASE (12%)
Waxing Crescent
Well the day was nice out. The water was 71 and waves were around a foot most of the day. The fishing was not was nice as I couldn't find squat. We had one hit a flat line with a reef runner on it but no luck. Nothing else though.
7/4/19 @ 8:53 AM
FISHING REPORT
MOON PHASE (5%)
Waxing Crescent
Fishing around Milwaukee remains slow so decided to try Kenosha where reports have been somewhat better. A seasoned crew of veterans who each have their own salmon fishing rigs enjoyed telling stories on calms seas with limited fog as compared to north of us.
Set lines early in 120 feet of water south of town and headed east. Went one for three in the first half an hour and continued heading east out to 180 with narry a bite going out nor back. When we reached 140 feet of water again about 1 1/2 miles north of the state line we had a two color with 9 inch clown action flasher and fly take it nice coho. Decided best to turn in that mark and glad we did because that was the only area we had decent marks and a few bites.
Angelo brought along one of his homemade green peanut flies on a 6 inch red Dodger down 18 and 20 feet back took a nice fish. Jack brought along a homemade fly taking a Coho on a five color. The remaining three fish game on either red or clown 9 inch action flashers and coho flies tied with a small spin n glow on front and two and three color set ups.
Water temperature was 66.7 on the surface and 59 down 20 and 43 down 40. Trolled 2.6 to 2.9 at the ball on DRX-10. Ended with five coho for nine bites. Other boats with similar catches. I know of one charter about 5 miles north of us in 160 feet of water that took 17. Seems like if you find your pocket of fish it's like old times if not it's a drought compared to what we are used to. Sounds like most boats out of Waukegan doing pretty good yet on very nice Coho up to 8 & 9 pounds. I hope they come north before they go east!!!
Grey Beard
6/30/19 @ 1:19 PM
FISHING REPORT
MOON PHASE (6%)
Waning Crescent
Went two for two this morning. Lake was flat to three/ four waves when we went in around 10AM.
Both coho caught on a coho set up, orange dodger a And peanut fly in 150' of water. Not bad for my first trip out in a couple years.
It can only get better, I hope
6/30/19 @ 11:52 AM
4 of us just got back. We fished the Illinois side of the border with MIGRATORY CHARTERS out of Winthrop Harbor. 20 for 22! 1 king 15#, 6 lakers 3 - 12#, 2 Steelies about 6-8# the rest coho 3-5#. And yes I know that this is an I'll. report but very close to K Town. CARPIO
DISPLAYING 1 TO 10 OF 744 POSTS