Lake Mary, Marinette County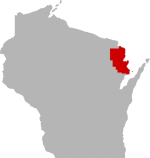 SHARE THIS PAGE
DISPLAYING 1 TO 10 OF 80 POSTS
FILTER OPTIONS
6/14/15 @ 12:33 AM
FISHING REPORT
MOON PHASE (4%)
Waning Crescent
2/11/13 @ 7:28 PM
FISHING REPORT
Fished sunday from 10:00 to 3:30 weather was awful. Caught one nice blugill, a small northern, 2 bass 14'' and 12'' and little perch. fish were hitting on white gill pill tipped with white spikes. Not to bad for first time fishing on this lake. Trucks are driving on ice.
4/17/10 @ 11:24 AM
My Folks used to have a place on this lake for many years. Since they raised the Outlet dam the cover has gone down allot. I have seen the bass fishing go down also. I have really noticed the Large northern population is down allot. Their used to be a whole section of wild rice that is gone with the higher water. It also does not help that many cabin owners poisoned the weeds off in front of their places. When wave runners really got popular they would run over the whole lake and break off all the bullrushes "cane beds". When the Bluegills are on the beds I think the jets of water would also blow some of the nests out.
4/17/10 @ 11:11 AM
I have had a cottage on the lake for about 20 years now, about 15 or so I have seriously fished.
The creek is navigable if your willing to work your but off. People have dropped some trees and illegally built some bridges to attempt to make it more difficult, but you can in fact get to Julia using the creek. I have done it 15 times or so in the past 10 years. Now I have better access so I dont use the creek anymore. I would love a chance to fish the other two, but I think that creek would be even more work.
As for bass in Mary, I dont think they are stunted I think they are lacking decent cover. The lake is too small for the amount of boat traffic it recieves during the summer. The weeds, and structure is what is effected, and thus it is harder to locate anything other than the immature fish. If you want to find a big largemouth, as well as good numbers for a fun day you need to look no further than the piers and pontoon boats. With the limited structure, I tend to find my only big fish every summer using plastics around the docks.
Still a fun lake, but really not productive enough in any facet to get too excited about.
8/26/08 @ 10:49 AM
FISHING REPORT
fished mary all day yesterday...caught 8 largies but biggest was only about 14...all the bass seem to be stunted but reading back on this thread i see some people say they have caught 5 pounders out of here so maybe i am just fishing them wrong...has anyone bass fished mary this summer at all?
DISPLAYING 1 TO 10 OF 80 POSTS