Lake Keesus, Waukesha County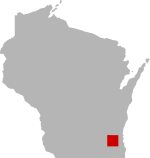 SHARE THIS PAGE
DISPLAYING 1 TO 10 OF 1,130 POSTS
FILTER OPTIONS
7/17/20 @ 1:50 PM
FISHING REPORT
MOON PHASE (10%)
Waning Crescent
We got out to lake Keesus a few weeks ago and did really well. Found a bunch of nice pumpkin seeds and then some quality bass in about 8 fow. First time on this lake but we will definitely be back. Check out our video on the trip!
7/17/20 @ 10:00 AM
FISHING REPORT
MOON PHASE (10%)
Waning Crescent
2/6/20 @ 9:39 AM
eze i was out on saturday 2/1 before real warm temps on sunday, we fished couple hundred yards east of launch, we had anywhere from 9-11" of ice, actually suprised me, 6" of good black ice and the rest was white soft ice. snow/ slush was froze over pretty good when we were out.
hope this helps
1/18/20 @ 10:45 PM
FISHING REPORT
MOON PHASE (37%)
Waning Crescent
6-7 inches of ice near the launch on the south east side. Didn't go out far but was in 21 feet of water and only got 4 bites in 2 hours. A bit of slush water on the ice. Eventually the 19mph winds kicked in and I left.
10/11/19 @ 1:37 PM
FISHING REPORT
MOON PHASE (96%)
Waxing Gibbous
Water temp 62-63 degrees. Had two bass strike but no fish landed. Used a variety of plastics in different colors but nothing seemed effective or consistent. Pier still in as of 10/10.
DISPLAYING 1 TO 10 OF 1,130 POSTS