Lake Denoon, Waukesha County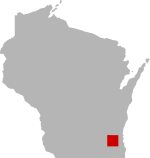 SHARE THIS PAGE
| | |
| --- | --- |
| | @ the lake |
DISPLAYING 1 TO 10 OF 648 POSTS
FILTER OPTIONS
6/4/20 @ 10:49 AM
FISHING REPORT
MOON PHASE (98%)
Waxing Gibbous
Went out on the kayak looking for some bass. Caught a few small ones along with some surprise walleye.
Using soft plastics. Video link below.
12/21/19 @ 8:07 PM
FISHING REPORT
MOON PHASE (23%)
Waning Crescent
Fished from about 9-11. Had high hopes, but that quickly diminished after finding no standing weeds anywhere in the north west side of the lake.
I saw a sign that said they sprayed the lake with sonar ( aquatic weed killer) in late fall. Hopefully they didn't spray the entire lake. Good luck out there. Ice was about 4".
9/18/19 @ 5:32 PM
FISHING REPORT
MOON PHASE (82%)
Waning Gibbous
Late post, was out Sept. 14th AM as the storms stayed just south of the lake, snuck out with a friend first time here this year. Did alright, boated 9 fish, 7 of which were bass in the 12-15" range. 1 gill and 1 perch to go along with it, had one pike follow up early on. We caught 4 or 5 within the first hour, between 5:45-6:45... was a bit tougher by the time we left at 9 AM. I'll be back once more yet probably. Everything caught in 4-10FOW
9/13/19 @ 11:00 AM
Yep, it was low 60s back in May. I'd be concerned if it was still that low in August!
I know it's long overdue (and was made public back in June, as well), but here's the video of my couple of fish that I caught. I'm currently trying to catch a fish in every lake in Waukesha County, so even though they're few and small, they count just the same to me!
DISPLAYING 1 TO 10 OF 648 POSTS