Lake DeNevue, Fond Du Lac County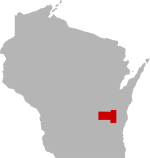 SHARE THIS PAGE
| | |
| --- | --- |
| | @ the lake |
DISPLAYING 1 TO 10 OF 45 POSTS
FILTER OPTIONS
1/13/14 @ 3:35 PM
FISHING REPORT
Hey King! Thought your pic looked familiar (along with it being weird that the perch had frozen fins on a day when they wouldn't...):
CLICK HERE. BOY THAT PICTURE LOOKS ODD...
Also - you don't need to live here, know someone who lives here, or trespass to get on the water. If'n ya know your water law, it can be done easily.
B A C O N ! ! !
DISPLAYING 1 TO 10 OF 45 POSTS