Lake Butte de Morts Bridge (Oshkosh)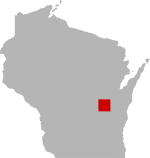 SHARE THIS PAGE
| | |
| --- | --- |
| | @ the lake |
DISPLAYING 1 TO 10 OF 14 POSTS
FILTER OPTIONS
3/18/18 @ 2:57 PM
FISHING REPORT
MOON PHASE (2%)
Waxing Crescent
Fished below the Butte des Morts bridge (41). It's ice free for the most part but the fish didn't cooperate. I had the place to myslef and used a jig and minnow and fan casted with a slip bobber. Maybe too early yet but it was nice fishing in the sunshine.
Has anyone else been fishing this area?
SKZ
1/4/14 @ 2:59 PM
FISHING REPORT
First time out on Butte De Morts. Went off at Sand Pit Road without a problem. I chose not to challenge the ice heave and stayed just west of it. There were two groups out. One to the west and one large one to the east. Most people were east and I saw several trucks crossing the heave. Talked to one guy out with his young son and they did as well as I did. Fished from 10-1:30 with a couple of small walleye, couple of small perch, and one large fish likely a northern as it pulled my drag making a couple of runs before I lost it with a broken line at the hole. I just don't have the experience of anything larger than a perch on the ice. keeping the bait moving was the key. gold horizontal jigs with either minnow heads or wax worms.
Good luck all. The nice perch are out there and don't forget to set tip ups for the northern.
1/3/14 @ 6:51 PM
John I was out there with my truck about a week ago. Drove off the county boat landing on Leonard pt rd. was a nice trail all the way out to the ice shove. They were crossing the crack at that spot with vehicles just west of that group. I would never recommend doing so, with that being said I walked over the spot and it was flat dry and seemed well healed. I also seen two trucks cross the shove near shore and drive all the way back to the landing. I used to fish this area very heavy in the 80's and I do know there was a wet area near shore just east of sandpit rd . Hope this helps Bob
1/3/14 @ 5:54 PM
John....I know of two winter access areas.
First is Rivermoore Dr. 44° 4.552'N/88° 40.996'W Decimal, Degrees, Minutes/Standard GPS. Takes you to the mouth of the Fox River. So check your ice depths before traversing.
The other one is in Butte de Morts...Right by the supper club on Main St.
North side of the lake. 44° 5.915'N/ 88° 39.225'W
I've never fished Lake Butte de Morts in the winter. I might have to give it a shot when it warms up a bit.
There's probably more, but those are the ones I know of.
Snuffy.
1/2/14 @ 6:49 PM
This is not a fishing report. I started fishing this lake last winter and loved the perch just north east of Sand Pit Road access. I see vehicles out there but don't know how they are getting there. There are but a few tracks from the Sand Pit Road access that were there earlier in December with large slush ruts. Can anyone give me an update please?
DISPLAYING 1 TO 10 OF 14 POSTS