Kewaunee River Bruemer Park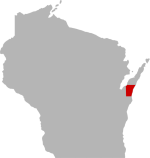 SHARE THIS PAGE
DISPLAYING 1 TO 10 OF 16 POSTS
FILTER OPTIONS
9/26/15 @ 9:13 PM
FISHING REPORT
MOON PHASE (97%)
Waxing Gibbous
Fished off pier and fished the river all day. Seen 2 rainbows caught off the pier in the morning off spoons. Tried the river in the afternoon and didn't see any salmon except in the hatchery. Also went up by Forestville and didn't see any. Some people say it's still to early. Might go back up in a couple weeks.
9/25/15 @ 10:29 PM
FISHING REPORT
MOON PHASE (91%)
Waxing Gibbous
Another bad night out in Kewaunee; the fish continue to have lockjaw. Saw only 1 fish caught out on the pier all day and night. It continues to be the same story from everyone, boats and all. After 3 weekends of trying I don't plan on coming back; each year it gets progressively worse.
8/15/15 @ 10:07 PM
terror_squad, if the river runs into Lake Michigan then you will need a Great Lakes stamp. Tackle is your preference, I use a 7' ML XF action, Pflueger Supreme XT 40 series spooled with Sufix 832 20lb. You can float or bottom fish spawn sacs, any size gold cast masters, lil cleos any color or #2, #3 inline spinners in chartreuse, orange or pink. Time really depends on water temperature, mid to low 50's gets them really started, typically mid September but I have heard some reports in the Milwaukee and Sheboygan areas of sporadic bites here in August.
DISPLAYING 1 TO 10 OF 16 POSTS