Kettle Moraine Lake (Round), Fond Du Lac County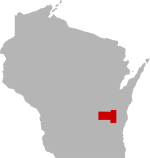 SHARE THIS PAGE
DISPLAYING 1 TO 10 OF 445 POSTS
FILTER OPTIONS
2/4/19 @ 12:51 PM
FISHING REPORT
Sloppy mess out on lake Sunday. Several inches standing water on ice with a lot of slush everywhere. Boat launch by Tiki Bar in rough shape with a lot of slush and standing water. Several trucks and ATV made it out onto the lake. Fished for 5 hours and had 1/2 dozen flags w/ three small northerns thrown back in. Noticed the minnows died fairly quickly on all lines? Water clarity not the best either.
2/1/19 @ 9:31 AM
Just a quick question. Wanna take some friends and first timers out fishing and just wanna know if anyone knows the ice depth? Wanna take the truck out,...f150.. but don't wanna drive 45 minutes if it isnt safe. There was a post last week of 11 inches but with the snow I didnt know if the insualting factor and weight has caused the ice to weaken. Any info would be great....thanks!!! And tight lines
1/25/19 @ 5:13 PM
I am out here currently. Am fishing the ibew 2150 tournament tomorrow. Btw, it is open to anyone. 6 am to 2 PM. Fish prizes, and raffle prizes. Free food at afterwards if you're in the tourney. 20 bucks to get in. Anyway, there is currently 11 inches of ice out here. I drove out with truck and camper, little less than I normally like, but still top side.
1/23/19 @ 3:27 PM
I'm planning on going out this coming weekend. I've never fished here before, was going to try out in front of the tiki bar. I saw a bunch of people out there on Jan. 12. Just wondering what the panfishing is like there as I'll be bringing wife and kids. Pm me if you want. Thank you for information and time.
1/17/19 @ 11:53 AM
There are several areas along the lake where a guy can park and walk out onto the ice. The only vehicle access point is off the boat landing at NanSeas Resort on the south end of the lake which they have always asked a donation for. Curious if anyone has attempted driving a car/truck on the lake yet the last few days?
DISPLAYING 1 TO 10 OF 445 POSTS