Kentuck Lake, Forest County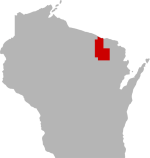 SHARE THIS PAGE
DISPLAYING 1 TO 10 OF 266 POSTS
FILTER OPTIONS
FISHING REPORT
MOON PHASE (57%)
Waxing Gibbous
We fished kentuck this weekend..it was slow on Friday only 1 walleye and some rock bass..saturday was better caught some decent walleyes but no crappies this weekend...tried deep and shallow couldn't find em...nice weekend on the lake with friends!
FISHING REPORT
We fished McKinley Lake and Butternut Lake both had 5-6" of ice and we met 2 guys on the boat landing at Butternut that said they were fishing Kentuck all morning and caught 1 rock bass and that was it. Not sure on definite depth of ice but we took 4 wheeler on Butternut! That was Saturday morning sorry hope that helps?
Been fishing this lake for the last 12 years and over the past 3 seasons noticed the pan-fish population has plummeted. It's to the point where you are lucky to catch a crappie. I have talked with a few guys and word is the spawning seasons have been affected by odd weather patterns in the spring. Over fishing also seems to be a problem. Small mouth and walleye seem to be as healthy as it always was. Still see the occasional muskie. When I first started fishing here you'd get tired of catching pan-fish every cast and start throwing larger lures to change things up. My advice is throw stuff back if its a pan-fish. The regulations for this lake should be changed to reflect the health of the current population for a few seasons to see if it will improve.
DISPLAYING 1 TO 10 OF 266 POSTS