Kangaroo Lake, Door County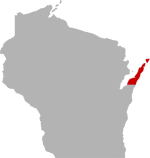 SHARE THIS PAGE
DISPLAYING 1 TO 10 OF 173 POSTS
FILTER OPTIONS
FISHING REPORT
The boys made it out the last two weekends and I think it might be the last weekend but it was heck of the year. The shore on the southern east side is melting quite a bit (the boys had to make a bridge to get out) but once out there the ice was decent (still 15" in the middle). Even Chad Dirt made it out and he had fun. Chad and the boys got a little wild, caught some fish, had a few beers and laughs. We even used the homemade jawjacker.
FISHING REPORT
Ended up doing some sunset/early night fishing last night and pulled up a couple of rock bass and some blue gill.
Went out this morning and nothing to show for it. It was windy today.
I heard Dr Pete and Crazy Legs Matt will be in town next weekend. I think those boys will be running the ice next weekend for sure.
DISPLAYING 1 TO 10 OF 173 POSTS