Kangaroo Lake, Door County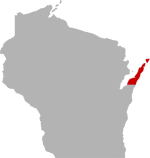 SHARE THIS PAGE
DISPLAYING 1 TO 10 OF 157 POSTS
FILTER OPTIONS
12/24/18 @ 4:36 PM
FISHING REPORT
MOON PHASE (94%)
Waning Gibbous
Hi Buttrum
Merry Christmas Buttrum. I much rather be in Florida but since the ice is here, it is something fun to do. I made it out on the east side of K Lake for some ice fishing. Didn't catch anything but it was a fun time. There is still a large open spot on the water in front of The Rushes in the middle of the lake. I stayed very clear of that and I know the lake really well so never went beyond 4 or 5'. There was somebody in a shanty between the boat ramp and the island and that seemed to risky for me.
Merry Christmas Buttrum. Enjoy Florida and hopefully you get to do some fishing down there
12/8/18 @ 11:56 AM
Hi Buttrum
Thank you for the advice. A week from your post the ice started forming and here right now this weekend as the temperature is dropping. It looks like ice is forming across and ventured about 5 - 10 ft out with about 2 - 3" of ice. I am only walking out 5 - 10 ft since I know in front of our cottage it is only 2 - 3' deep but definitely don't plan on going out further for a while. Lots of ice noise today with the temperature in the 20s and the sun on the ice.
I know exactly the large weed bed you are talking about on that side. I wasn't sure if it was just because of easy access to get out on the ice due to the launch or if it was the weed bed over there. Have you ever tried to ice fish by locating any of the fish cribs?
11/30/18 @ 11:05 AM
Just back to Port Washington, Wi. from being at the Rushes on kangaroo lake, in Baileys harbor; for 2 weeks. There really isn't any real ice yet. There was a crust maybe 20 ft from shore at the cause way. It broke up fast with a little wind. Had 3 days of snow while we were there. I doubt you will be able to safely go on ice in mid December.
the ice fishing on the other side by the "launch" is because there is a weed bed pocket just west of the island. that pocket has historically produced very good results. Good luck.
11/28/18 @ 8:26 AM
Hello, All. I plan on getting up to our cottage in a couple of weeks, I am hoping there is some ice in mid-December so I can get on K Lake. Plan on being up at least a couple of weekends in December so please let me know if anybody who is active on here watches for some ice on K Lake.
We are on the East Side of the lake and very actively up there spring through fall and this is the first year we are up there for winter. Cannot wait to ice fish at K Lake - last winter when I was up there, I saw a majority of the shanties on the West Side of the lake across the launches - is this just do to access? I have all the fish cribs marked via GPS from fishing on the boat in the summer and I am planning on trying to hit those up for some jigging.

10/19/18 @ 5:16 PM
FISHING REPORT
MOON PHASE (77%)
Waxing Gibbous
One of 2 things. Many fish cribs out there and they ar maybe 15ft by 15 ft and weed covered. I'm going to guess that's what you saw. They are quite visible especially when the sun is out There is also a weed bed that runs down the middle of the lake south of the island. That weed bed runs pretty far south in 10 fow or so.
10/19/18 @ 4:42 PM
FISHING REPORT
MOON PHASE (77%)
Waxing Gibbous
Fished this lake for the 1st time yesterday. Not much to report on. We only boated 1 smallmouth.. Anyways out in the middle of the lake we came across large weed humps. The depth around these "humps" was 8 to 10 feet. But my Electronics we're not showing any humps at all. Could these have been floating weed mats that sunk? They were everywhere. Any information on the lake is appreciated. Looking forward to trying it again in 2019
DISPLAYING 1 TO 10 OF 157 POSTS