Indianford Dam, Rock County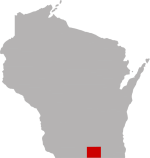 SHARE THIS PAGE
| | |
| --- | --- |
| | @ the lake |
DISPLAYING 1 TO 10 OF 872 POSTS
FILTER OPTIONS
6/30/18 @ 6:37 AM
You can still get to the dam.To fish the side by Off the Hook You can come in on F from Janesville or take consolidated school road off 51 south of Edgerton then a right on f or to fish the river where the parking lot is you can take 51 south thru Edgerton,Keep right at Burn`s gas station (main st.) go past the cemetaries,stay left at the curve and it will take you to to dam.
The Yahara river in and around Stoughton has plenty of carp and cats.Most cats are being caught on cut bait or half a hotdog.

6/19/18 @ 6:48 PM
Would like to try shorefishing this area for Carp/Cats and the like sometime this season. Never have been there before. Wondering about water levels and currents. Basically, is the area fishable right now with all the recent rain? Any online sources? Also, is there nearby parking? Thanks!

5/30/18 @ 1:22 PM
Thanks, Ya I haven't been there since the end of April, been concentrating on Lake Mendota to get that place figured out. Thinking to put my aluminum river boat in at Hwy 14 launch and motor up to the dam, this will be my first time on this water in a boat, so maybe some higher water is better. I've been wanting to do this for years, always fished from shore in the past.
DISPLAYING 1 TO 10 OF 872 POSTS