Hilbert Lake (Orwig), Marinette County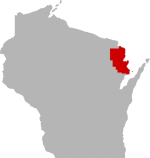 SHARE THIS PAGE
DISPLAYING 1 TO 10 OF 67 POSTS
FILTER OPTIONS
5/19/15 @ 2:59 PM
FISHING REPORT
MOON PHASE (3%)
Waxing Crescent
AL...your best bet in my experience is another lake...I've run into some nice crappie on Hilbert but only in sporadic areas around cribs and brush piles adjacent to deeper water. I know other locals catch them and a few scattered perch in the first lake not far out from the boat launch in the center hole of weeds in that part of the lake as well.
Went out Saturday for some early season big mouths and gills and had a blast. Gills didn't really hit the beds yet...only saw 3 yes 3 beds on entire 1st/2nd lake for gills. A few scattered bass on beds but lots of fun activity in shallow-mid depth (10') shoreline waters. Caught a mix of about 25 large- and smallmouth bass in about 6 hours on the lake...only 2 of which were under 14". Lake looks like it has one heck of a healthy smallmouth population. Lots of pictures and fun fish on that are still out there swimming and a small take of gills around 8"-8.5" for the pan.
The flurries of activity hit harder as the sun would shine through which seemed to really activate the fish...very little weed growth in anything less than 12' of water.
6/16/14 @ 9:40 AM
FISHING REPORT
Went out and battled the blustery winds on Saturday. Found a few largemouth cruising the mid-depth shallows on post spawn feeding. Did a little CPR on a couple fun Smallmouth as well. Looks like a healthy bass population here again this year. Plucked out 14 nice bluegills between 7.75 - 9.25" as well.
Lake water levels remain very low through much of the first to second lake channel and extend into much of first lake. Be careful navigating out there!
DISPLAYING 1 TO 10 OF 67 POSTS