High Falls, Marinette County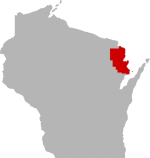 SHARE THIS PAGE
ICE DEPTH CHART POWERED BY:
ICE CHART
POWERED BY
FISH MORE. FISH BIGGER.
FRABILL
MAGNUM BAIT
STATION 30
DISCLAIMER: This chart is for informational purposes only to show what people have been reporting for ice depths for High Falls, Marinette County and thus is only as valid as the data submitted by those users. This data is not verified by Lake-Link. As always, take extreme caution whenever on ice.
DISPLAYING 1 TO 10 OF 1,365 POSTS
FILTER OPTIONS
2/2/20 @ 9:09 PM
FISHING REPORT
MOON PHASE (57%)
Waxing Gibbous
Was on High Falls fishing by Teachers Island on got me some nice perch. Had to work hard for them did a lot of hole jumping fished from 8 foot to 22 foot. found ice anywhere from 6 inches to 11 inches. Slush and snow on top of made it hard to get around. Check out my video on youtube/ outdoors with wayne k
1/5/20 @ 7:29 PM
FISHING REPORT
MOON PHASE (74%)
Waxing Gibbous
Can see why no one answered my ice condition request, no one was out fishing Saturday morning when I went out. Anyhow, thanks to the person who bladed a nice trail right to my fishing spot! It made walking and pulling a sled nice for that almost a mile walk! As for fishing, daughter and I had a blast with a great crappie bite, waxies and minnows on small jigs. Best bite was morning, 16 FOW. We kept 22 crappies 9-10", caught many more shorts and also got 2 bonus eyes. One of our better days for size, tight lines!
12/23/19 @ 8:44 AM
FISHING REPORT
MOON PHASE (7%)
Waning Crescent
staying close to shore, as ice is dicey, but pulled in a nice 18" Walleye when we went out to collect our tip-ups, at 9pm. Baited a Golden shiner on a treble hook, in 7 ft water. Had three tip-ups out for about four hours.
12/22/19 @ 1:08 PM
FISHING REPORT
MOON PHASE (14%)
Waning Crescent
DISPLAYING 1 TO 10 OF 1,365 POSTS