Grindstone Lake, Sawyer County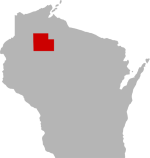 SHARE THIS PAGE
DISPLAYING 1 TO 10 OF 36 POSTS
FILTER OPTIONS
1/13/20 @ 7:20 PM
FISHING REPORT
MOON PHASE (89%)
Waning Gibbous
Fished Grindstone Thursday through Saturday, fishing was slow, lots of tiny perch and some ok gills. No walleye or crappies found. Fished the weed beds on the south east part of the lake east of the boat launch. Measured 10" of ice, there were cars and small trucks and wheel houses out on Friday and Saturday.
9/25/19 @ 7:12 PM
FISHING REPORT
MOON PHASE (14%)
Waning Crescent
Fished Grindstone for the first time on Tuesday. I was trolling and targeting walleye. Stayed in 15 to 24 FOW, showing several presentations. Caught walleye and perch on bandits 50 ft back at 1.6 speed. Also caught bluegill on a crawler harness doing the same. Then caught smallmouth on a DT6 in about 12 FOW at 1.8 speed.
Hope this helps, if anyone has any tips or wants a fishing partner PM me and let me know.
9/24/19 @ 12:18 AM
FISHING REPORT
MOON PHASE (23%)
Waning Crescent
DISPLAYING 1 TO 10 OF 36 POSTS