Grindstone Lake, Sawyer County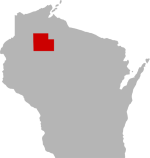 SHARE THIS PAGE
| | |
| --- | --- |
| | @ the lake |
DISPLAYING 1 TO 10 OF 31 POSTS
FILTER OPTIONS
1/17/06 @ 12:07 PM
This is not a fishing report but just an update. Was up fishing LCO this weekend and did check out Grindstone. People are driving on the ice.(Not me but people) The ice was about 10-12 on LCO and there is very little snow on the ice so I would think it is about the same on Grindstone. Getting around is easy but creepers are a safe bet. Most of the activitiy on Grindstone appeared by the weedy area close to the channel between Grindstone and LCO. The other area holding a lot of people was on Kentucky Bar.
I hope that helps.
1/9/06 @ 7:37 PM
Fished Grindstone for the first time in years over the weekend. Wife and I fished Kentucky Bar Fri. night 3p - 7p, had 7 flags 5 fish, 1-12", 3-slot size, and 21.5" Tip-ups in 7 ft to 24.5 ft. Had a great time. Sat. night was completely different, 4 hrs. no flags. Cars and light trucks being driven on, not quite thick enough for me yet.
1/6/06 @ 11:40 AM
Well I'm back at work after a great vacation back home. Seeing the family was good, but just couldn't wait to get out fishing. Left Star Prairie at 8:30 a.m. on the 26th. of Dec. headed for my friends cabin in Hayward. Arrived around 11:00 a.m. Headed right for the shack (after making a beer stop or two or three) Got set up for the first day of fishing decided since it was getting late I would stick with center bar (like everyone). Had a few flags with about six inches out. Didn't manage anything productive until after 8:00 p.m. I released one walleye that went 27", and managed to catch dinner shortly after. Caught a bunch that were in the slot, but had a great time with friend I haven't seen in years. Back at the cabin at 1:00a.m. (feeling no pain).
The next day (feeling the pain), I didn't make it out until 3:00 p.m. Went into town for more beer and got held up at a few watering holes. I decided that since I didn't see anybody on Kentucky that's were I was headed. Got set up around 4:00 p.m. fried up some bluegills that a buddy brought with him. Fishing was a little slow, managed to get my two. One from jigging With a crappie set up(four pound test) Next year I'll tell everybody it was two pound test and the fish was much bigger. Headed back to the cabin earlier that night since I had to be in Woodbury early the next morning. I had a great time and can't wait to do it again next year.
12/24/05 @ 8:35 AM
Ralphie - most people fish Center, but you should be able to get fish on Kentucky, as well. Center - try the 15-20' range on the north east side. Or the hole in front of the outlet to LCO. Right at teh edge of the weeds is ususally best. Kentucky - try the south or southeast sides. We use walleye suckers on tip ups, although I am going to try some jigging next week. Good luck.
12/23/05 @ 8:32 PM
Spoke with a resort owner today. She stated that there is at least 6" of ice, she did not know if people were driving on the lake, she just got back from vacation. I plan on heading up Jan. 5-7 to try and coax a few walleyes to bite. Any suggestions on minnow type or size and what bar is better Kentucky or Center Bar. I am introducing my wife to ice fishing and would like her to catch a few.
Stay safe.
DISPLAYING 1 TO 10 OF 31 POSTS