Green Bay sunset B launch suamico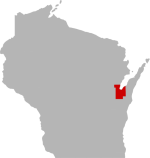 SHARE THIS PAGE
DISPLAYING 1 TO 10 OF 526 POSTS
FILTER OPTIONS
2/23/20 @ 5:24 PM
FISHING REPORT
Walked out of the park and to the left,drilled holes along the way measured 14 inches in every hole. Walked back and drove my tahoe out. Fished 8ft, tried 11ft 13 and 15ft. Didnt mark a single fish between the 3 of us. But it was a great day to be out...
2/23/20 @ 11:46 AM
Iceaffliction. You can drive out on hook road. Looks like everyone is in3-8 fow. Big trucks driving about a half mile out, but you don't need to be that far right now. Snow is the biggest concern right now with decent drifts. Getting better though. Let us know how you do.
2/23/20 @ 9:22 AM
FISHING REPORT
I went out off Sunset Beach Park Friday morning had at least 14" good hard ice. I was 1/2 mile straight out from park in 15' water. There was a crack there early in the season I did not cross the crack. Not sure how good ice is past the crack or to the north up by Little Tail / Hook Road.
I had the only vehicle out in the area Friday morning. There was 1 truck just offshore by the park too.
Got 2 7" perch in 2 hours but did better in that area earlier in the year.
5/17/19 @ 1:30 PM
FISHING REPORT
MOON PHASE (98%)
Waxing Gibbous
The waves were really crashing by Bayshore so we swung around to Suamico. The waves were big but a small fleet was tucked in by Little Tail. We fished deeper for a while but the ten foot depths and my buddy's crawler harness did damage on three walleye. A plug had a small northern 'till he ejected himself over the side. Good enough day with both the water and the air with temps around 52 degrees.

DISPLAYING 1 TO 10 OF 526 POSTS