Green Bay/Lower Bay, Brown County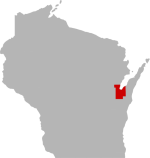 SHARE THIS PAGE
DISPLAYING 1 TO 10 OF 6,718 POSTS
FILTER OPTIONS
FISHING REPORT
Report from 6/16/21. We started fishing out of Bayshore at 6:30. Tried jigging for the first hour on 2 Mile Reef and got gobies, white perch, sheepshead and 1-16" eye. Decided to try trolling crawler harnesses around the reef and got sheeps and 1 short eye. Moved to Voelks reef and trolled crawlers, all we got were more sheep. Switched to cranks and got a couple more sheep and 1-15" walleye. At 10:30 we moved over to Vincent, trolling with #7 minnows and shads. We picked up 3 more legal walleye, and a bunch of sheep. We quit at 1:30. Fishing was pretty slow, but weatherwise, it was a beautiful day to be out on the wate.
FISHING REPORT
It's been a few weeks since I was last out due to a work committment, so Monday when I went out I was going on some friend's reports and what I thought would be the best approach. The first curve ball in the plan was the storm from the night before. When I got to Bay Beach Rd, it was obvious things would change, as the number of tree branches down and the tree uprooted by the Coast Guard Station indicated change. Add to that, the storm surge pushed water well up into the Metro lot, as the debris line was up near the curb.
With the boat launched and readied, I took Jim, BJ, and Doug out looking for walleyes. We started along the edges of Deadhorse Bay, but it was quickly apparent the amount of floating debris was going to be an issue. With several large tree branches, some cattail swamp debris, and duckweed everywhere, I decided to go north to Vincent, Vokes, and Point Comfort right way, with an attempt to get away from the worst of the floating garbage. Vincent and Vokes were both a zero, but Point Comfort put us on our first fish of the morning. Working N-S with the NW wind quartering with and against us, we had only one more hit. I decided to move us, travelling out into the 19 ft plus area, looking for fish. We finally found a decent group of fish in 13-16'. Setting lines and working thru the school from both directions, we managed to put 12 more fish in the boat. #7 flicker minnows in white, purple/gold, custom purple, and metallic firetiger all took fish, and several smaller walleyes were released. If not for the Lowrance Live 12 unit and the excellent sidescan screen, we would never have found those fish. I'm really looing forward to the summertime open water bite, as this tool is going to lead us to consistent walleye gold.
I have only a few openings between no and the end of July, for those who are looking for a trip. Capt Jerry.
Anglers Plus Guide Service
(920) 973-2868
FISHING REPORT
Report from 6/9/21. Launched out of Bayshore. trolled cranks on Voelks reef got 1 sheep, Vincent & Frying pan shoal got a couple sheep & white perch. Jigged on 2 mile reef with Rippin Raps & Blade baits got 2 short walleye. Went to Red River-Macco's reef trolled minnows and shad. Got 1 shortie, 2-10" perch, a sheep. Quit about 12:30. Tough bite With all the hot weather.
Ryan Grant is really good up there. And he's pretty much exclusive to musky. 920 412 2020. You may want to ask him how his opener was......
DISPLAYING 1 TO 10 OF 6,718 POSTS