Green Bay/Lower Bay, Brown County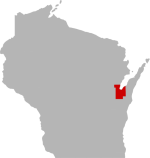 SHARE THIS PAGE
| | |
| --- | --- |
| | @ the lake |
DISPLAYING 1 TO 10 OF 6,237 POSTS
FILTER OPTIONS
8/22/19 @ 6:54 PM
FISHING REPORT
MOON PHASE (59%)
Waning Gibbous
8/22/19 I launched at Suamico at 6:00 this morning. Headed north and started trolling with cranks in 14-16 fow. Got 2-16" eyes and 3 nice perch, a 28" northern(released), 2 short eyes and 4 or 5 sheep. Bite quit about 9:30 so I moved out to 26-28 fow and switched to crawlers. Caught some sheep, a couple cats and one 24" eye(released). Headed back to the dock about noon. Not a great day, but still better than working.
8/22/19 @ 2:16 AM
NoAction: I rarely post comments on LL that aren't report related. But, That post reminded me of one early evening years ago a buddy and I were sitting in a bar on Little Sturgeon Bay enjoying a cold one after a long day of fishing. Dale Stroschein walked by and I said hi. He sat down at our table and we spent about 20 minutes discussing family, walleye patterns, techniques, bait fish patterns, wind effects on fish movement and so forth. To have a guy like Dale take the time to talk to two total strangers from out of town, share his knowledge and truthfully answer questions was very nice to see. Your story doesn't surprise me about Dale. And it's exactly this type of mentality and personality that so many locals have in Southern Door County that has kept me going back there, choosing to spend my money in this area every year for the last 20 years. This same friendless and willingness to help a stranger was shown to me again just this spring when my truck broke down in this same bars parking lot and the Owner gave my girlfriend and I a ride across the lake, at night, back to our hotel. I love Door County.
8/21/19 @ 10:04 AM
FISHING REPORT
MOON PHASE (69%)
Waning Gibbous
Well Well Well, it seems I have been a slacker, and not posting in a while..... My bad. :-)
I remember sitting down last week late and starting to type a report then I must have been distracted and never got back to post it. LOL
The fishing overall has been good not great but good. We have had several wind changes and every week it seems a slight cold front comes through making it a new bit of a challenge. With that said we certainly have been able to locate some fish and have plenty of action. But if you are not willing to explore and run a round a bit your results may vary from mine. :-) I have talked to many of you good folks at the landings that have had some frustrating results on days but my advice has stayed the same you may need to be a bit more mobile to find the active fish. A good example was last Saturday, my customers and I began the morning hooking up 2 fish in the first 2 casts then as the wave action laid down it really became work. This was on a spot that 2 days before was lights out! After a coupe hours of plucking off a couple more fish I decided to move to another structure that had been good earlier in the week.... after about 30 minutes I could tell the results were going to be the same.... so I told the fellas we were going exploring and we ran to 2 other structures to have look the first one I knew in minutes looking at my Lowrance that we were not even going to make a cast..... the second ( a location I have not fished in about a month) was loaded with fish...... Now they were not all Walleye but at least it looked good to start a cast. In minutes we were back into some action.... Walleye, White Bass, Sheep head, and Perch.
The advice to take out of this is to not be afraid to explore and get out of your "comfort zone spots".
I have not put any Off Shore Boards in the water in about 3 weeks so all hand to hand tactics for me and targeting structures. Key is paying attention to where the fish are on the structures. It has been a fun summer so far with great customers! I also have absolutely enjoyed chatting with a few of you LL'ers on the water on some of the "Spots" out there and at the landings. So many of you get it that the key with doing what we love is... Fishing is Fun! Smile and say hi if you see me on the water!
This coming Saturday 8/24 I had a cancellation so I have a rare opening for a weekend. Give me a shout if you want to get out and chase some Walleye.
FinFanatic Charters
(920) 360-2904
8/20/19 @ 8:18 PM
My father took my sons out fishing today and were fortunate to have found some active perch and had a blast out on the water on such a beautiful day! At the landing they were approached by a gentlemen asking the same questions we all ask fellow fishermen "how was the bite"? They cordially passed on information and went there separate ways. Moments later the gentlemen came back and asked my father if the children were his - 72 is a bit old to have a 14 year old son, and he replied they were his grandchildren. This man went back to his boat a came back with a brand new Cabelas rod and reel combo and gave it to my youngest son...he didn't have to do this, but I am grateful that he did. That act of kindness made my sons day and I insure we will pay it forward....thanks for making a huge impression on my son Mr. Dale Stroschein - he very much appreciated your kindness. God Bless.
8/20/19 @ 6:47 PM
FISHING REPORT
MOON PHASE (77%)
Waning Gibbous
Still great fishing for walleyes on Green Bay!! Friday I had 3 generations of Satori family aboard, with daughter Katie taking honors with a 29" beast!! Saturday, I was with Daryl and Fred. We jigged for 4 hours without a single walleye!! I asked the guys if we could troll a bit, and we took some fish for them to bring home. Monday I fished with Scott, Greg, Mike, and Tony. The 4 retirees were a blast to have on board!! We started jigging around structure, taking 5 nice eater walleyes. We then switched to trolling, with another 10 walleyes hitting flicker minnows. I have some openings in September for those looking for a trip. Capt Jerry.
Anglers Plus Guide Service
(920) 973-2868
DISPLAYING 1 TO 10 OF 6,237 POSTS