Green Bay/Lake Michigan Smallmouths, Door County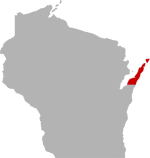 SHARE THIS PAGE
DISPLAYING 1 TO 9 OF 9 POSTS
FILTER OPTIONS
9/9/19 @ 11:51 AM
FISHING REPORT
MOON PHASE (83%)
Waxing Gibbous
Rather than start a new thread I found this old 2006 one that people might like to revisit. Usually when I fish Door County I jump around to various areas so it's hard to choose one of the current posts and I'm sure the walleye and musky guys will be happy to see less SMB posts. I've been up fishing door county a few times this year and was up again last weekend. Launched out of fish creek 9:30am and headed straight out to some underwater reefs. Saw some big walleyes cruising the shallows and big and small SMB sitting in the transitioning 5-15 ft range. Sight fished a 5 lbs right of the bat on a drop shot and then as soon as the sun got a little higher the fish moved away. 4-5 other boats showed up and after 1.5 hours none of us landed a fish. I worked some shoals and points but wasn't happening so started targeting deeper humps. If I saw fish on the electronics I'd hover over it and dropshot. Caught some fish in 25 fow with deeper water surrounding these humps. Worked horseshoe island and Ephraim bay as well. Slow day overall. Fished out of Rowleys Bay the next day and met a couple other guys who fished the Lake Michigan side and the bay side around sister islands the day before and had same bad luck i had. Wind forced me and the other boats into the mink river as waves were too high in RB. A few smaller fish were caught by the other boats but I got skunked. Hoping to get up one more time in October when the feedbags are on. Tight lines.
5/8/06 @ 11:20 AM
Fished the flats yesterday too from about 7 am till 1pm, with Surfer. Boated about 2 dozen smallies, with smallest at about 16 inches, and a couple in the 20 inch class, measured at 20.5 and 5 lbs....also had a few doubles. Lost at least a dozen before they made it to the boat. Bite was steady till the wind died down and the water got flat....the bite shut off, and home we went. Drifted with two wind socks in 6 to 10 FOW, dragging suckers and shiners. Here's one of the doubles.
4/6/06 @ 7:44 AM
Roland,
Although I really like little sturgeon, my favorite place to go, especially this time of year, is the flats to the northwest of town (sturgeon bay). from now through july there will be good fishing for all sorts of species, starting with trout and walleye, and then moving to smallmouth later in the spring and early summer. best place to launch would be sawyer park if you have a bigger boat, or sunset park for anything 16' or less. the olde stone quarry is a nice spot too, but they are remodeling the launch and i'm not sure if you can get in there right now.
Good Luck P
DISPLAYING 1 TO 9 OF 9 POSTS