Fox River Princeton Dam, Green Lake County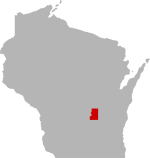 SHARE THIS PAGE
| | |
| --- | --- |
| | @ the lake |
DISPLAYING 1 TO 10 OF 232 POSTS
FILTER OPTIONS
8/18/17 @ 4:29 PM
anyone been fishing here? i am trying to kill a few hours in a couple of weeks when i am in the area. any suggestions to try above or below the dame would be appreciated. not keeping anything because i have no way of cleaning or keeping them from spoiling.
pm me if need be. i make lures so some information i could pay back with ice jigs, spinners, buzz. thanks guys
7/31/16 @ 2:15 PM
FISHING REPORT
MOON PHASE (6%)
Waning Crescent
Went out from about 3:30pm til about 11pm friday night targeting cats for the very first time. I limited success at first until i changed the length in the leader to about 5-8 inches. Ended up with five or six 20-25 inch cats and one very healthy flathead that was 25 inches and released. Crawlers were my bait of choice but the real key was the position or area i was throwing my bait. They are in there, but a matter of location of where you are tossing your bait.
DISPLAYING 1 TO 10 OF 232 POSTS