Fox River Appleton Shore Fishing, Outagamie County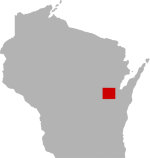 SHARE THIS PAGE
| | |
| --- | --- |
| | @ the lake |
DISPLAYING 51 TO 60 OF 336 POSTS
FILTER OPTIONS
5/4/16 @ 6:05 PM
Alright appleton people. I havent fished the fox in years. I fish alot but always go to oshkosh etc.....for walleyes..white bass..crappies. my question is am i missing out on anything right in my own backyard? I use to fish the river when i was younger but dont really remember catching much but carps. Lol. Like the post below it is sad that we cant eat what we have here. Even neenah and menasha is better just miles away
5/2/16 @ 6:27 PM
FISHING REPORT
MOON PHASE (23%)
Waning Crescent
Stopped for an hour or so on the way back from trout fishing, just because it was a nice day. No fish, though I only had the 3 weight and a box of trout flies along, I gave it a try looking for some crappies with a little streamer. Lots of carp around but nothing else that I saw going on. It'll get better, water is pretty cold yet
Read Pro Staff Bio
Troy Stoeger Guide Service
(920) 277-5578
4/17/16 @ 10:11 AM
Hey guys, I'm new to the forum but have been fishing the fox system for a long time. Just wondering if anyone has had any luck with catfish yet this year? And what's biting right now, I see people are catching perch and some bass. What are you all using for the bass? Thanks.
4/14/16 @ 8:11 PM
FISHING REPORT
MOON PHASE (56%)
Waxing Gibbous
Was at the lock tonite with the boy and no Pearch one crappie 3 sheepshead slow bite that was 330pm to 600pm then wife told us we had to come home and eat me and the boy still had fun handing out with each other so we called her a nite going to try tomarow
4/14/16 @ 2:36 PM
Beard28-The best way to get to the locks off of Lawe St. right now is to use Oneida St. Whether you're coming from the north or south on Oneida St., turn on Olde Oneida st and then E River Rd. Type this into your phone/gps: 668 E Newberry St. Appleton WI. This will take you right down to the locks. If you are coming from the north down Lawe St., you will not be able to get across the bridge by the locks due to construction. Hope this helps with your little man. I have a 4 year old as well and I can't wait to get him out there! Good luck fishin!
DISPLAYING 51 TO 60 OF 336 POSTS