Fox Brook Qaurry, Brookfield, Waukesha County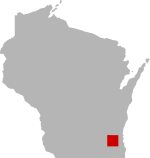 SHARE THIS PAGE
| | |
| --- | --- |
| | @ the lake |
DISPLAYING 1 TO 9 OF 9 POSTS
FILTER OPTIONS
4/8/13 @ 4:48 PM
FISHING REPORT
Let me start off by saying this place used to be "HEAVEN ON EARTH"!! Back when this was a lake without a name, or before the city of Waukesha condemned the family farm, me and a friend were blessed each and every time we stood on her shores. From 1995-2001 we had the privilege of fishing here almost everyday in the spring & summer, when we were supposed to be job hunting, and throughout the fall and into winter. Never in my life have i ever caught bigger bluegills, regardless the time of year, bluegills there averaged 9.5-10 inches, yes that's right 9.5-10 inches, with the truly big boys stretching the tape well beyond 11 inches, with my biggest being 11.75. During the hard water season, we continue to jig for gills, but also brought tip-ups baited with 8-12" suckers for the MONSTER PIKE that roamed these waters, with my biggest being 42", which actually isn't that big compared to some of the pike we had bite on to the 3-4lb bass, on the end of our line, during the open water season. In 2000, the DNR set fyke nets to survey the fish population, when a 30lb pike showed up and actually made the local paper.
6/29/10 @ 7:56 PM
FISHING REPORT
Went out to Fox Brook for the first time and not too bad for a first timer there! I was there for a few hours and ended up with 3 keepers and 1 short. All fish were released after picture was taken but they were in deep!!
12/31/05 @ 3:16 PM
Hey every one should give this place a shot. It's about a 5 acre lake that used to be a qaurry. My partner and I have been fishing there for a few years, always catch nice bass and northerns. Went out today, the ice was a little slushy but stable. Fished for 4 hours, sorta slow, 3 flags, 2 northern. I sure hope it cools off!
Team SS-
DISPLAYING 1 TO 9 OF 9 POSTS