Forest Lake, Waukesha County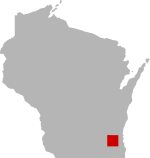 SHARE THIS PAGE
| | |
| --- | --- |
| | @ the lake |
DISPLAYING 1 TO 10 OF 73 POSTS
FILTER OPTIONS
3/4/19 @ 10:56 PM
Forest Lake. Nice place to go to if you are from the city and want to be on a beautiful , secluded lake. As for the fishing, literally 10 lakes right nearby that are better. I fish Forest once every few years. Catch lots of small pike, gills and crappie. Very few keepers. The few perch actually in this lake are around 6 inches. There are a few big bass that feast on the multitudes of stunted panfish, can be caught mainly shallow in open water
1/25/19 @ 9:10 AM
FISHING REPORT
MOON PHASE (73%)
Waning Gibbous
Fished a couple hours yesterday morning. We had a small pike on a hotdog and a few tiny gills jigging wax worms. I'll have a video in a week or so, for those interested in seeing how we did.
Ice was a solid 4 to 5" most of the way through. I'm surprised it wasn't thicker, but should be after this weekend.
12/9/18 @ 8:52 PM
FISHING REPORT
MOON PHASE (6%)
Waxing Crescent
Fished 7-noon 10-13fow. One pike jiggin, and lost a fish half way up the hole. Solid 4" of ice. Drilled about 20-25 holes. Marked fish but finicky. Tight lines be safe still early ice...
2/12/18 @ 2:53 PM
FISHING REPORT
MOON PHASE (9%)
Waning Crescent
Set tipups in the middle of the lake, and also was jigging with a Swedish Pimple with a minnow head for Pike.
One flag, but didn't ice the fish. Did ice a 16" Pike on my Beaver Dam Carbon fiber jigging rod.
There were a couple of other guys out on the lake simultaneously. They caught a bass and a pike. Didn't get info on size.
DISPLAYING 1 TO 10 OF 73 POSTS