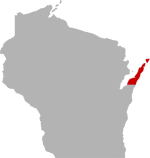 SHARE THIS PAGE
DISPLAYING 1 TO 10 OF 35 POSTS
FILTER OPTIONS
FISHING REPORT
Sunday 02/16/20 By Egg Harbor off Frank E. Murphy Park launch. Utv driving out to a mile. Solid ice with few frozen solid snow on top. Once through the ice there is alot of slush underneath it which seems like shoves but aren't. We walked out few hundred yards to about 27FOW (about past the left furthest point from the launch). If you can find rock piles with lots of zebra mussels the whitefish will come by in schools often, which is what we found and fished at. Even at 27fow you can see bottom and pretty much site fish. We used a camera to fish and water clarity was great. There was a guide taking people out to the permanent shacks a mile out and they were all limiting out.
FISHING REPORT
I just kinda searched around til I found them. There were two other boats out nearby and they had same results as me, verified at boat launch upon return. They are there. A slow retrieve near bottom seemed to work best. I may give it one more shot before I retire the boat.... if the winds ever lays down.
My girlfriend and I are heading up to Egg Harbor for camping this weekend. We are bringing our fishing kayaks and was hoping to target smallmouth in the Egg Harbor Bay. Looking at google maps, the whole shoreline seems to be rock. I do not want to just shore fish the harbor so any ideas or information would be helpful. Is it all rock, are there smallmouth in the bay?
DISPLAYING 1 TO 10 OF 35 POSTS