Elkhart Lake (Big Elkhart), Sheboygan County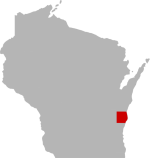 SHARE THIS PAGE
DISPLAYING 1 TO 10 OF 1,149 POSTS
FILTER OPTIONS
FISHING REPORT
Appreciate the advice! We are at the Osthoff resort- not much from shore. Rented a paddle boat with daughter- just goofing around but got a gill and perch- it's rainy today so not many people outside- gonna rent a canoe and see if I can find something- saw a few bigger bass- gonna go after them I think
Thanks again
Super clear lake smallies are on large size. Good walleye if you don't spook them. On weekend zoo after 10 am and on some week days. Not much if you want to fish from shore all private land. One really shallow bay fun until people that live in there take out their pontoon. No respect if you don't live on lake. Tubes and wacky worms around docks is a good starting point.
Hello- I am going with my wife and daugther to a resort (no idea of name - wife set it up) M-W, and was hoping someone could message me any area fishing advice - not really sure what to even pack for. I probably will be stuck close to shore- kayak or canoe or something, but any advice is appreciated. Never fished over here before.
Thanks and good luck!
DISPLAYING 1 TO 10 OF 1,149 POSTS