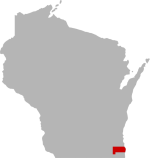 SHARE THIS PAGE
| | |
| --- | --- |
| | @ the lake |
COVID-19 MESSAGE
At Kwik Trip / Kwik Star, the well-being of our coworkers and our customers remains our top priority.
All of our stores remain open to service you.
Please read our message to our guests.
DISPLAYING 1 TO 10 OF 149 POSTS
FILTER OPTIONS
2/10/17 @ 1:37 PM
I have lived in the area for over 40 years, fished the fox from Mukwonago to Silver lake, even fished the White river this past summer from the airport bridge towards Lake Geneva. I have caught just about every species of game fish on both, no reason they would not be in Echo.

2/9/17 @ 1:58 PM
FISHING REPORT
MOON PHASE (98%)
Waxing Gibbous
tho ive never ice fished echo, ive been all over it on my kayak and have found spots deeper than 3 feet on the towns side on the bridge. along the tracks have spots definitely deeper than 3. I've thrown divers that dive 6+ feet by the dam and had no issues. and i don't know what the "no panfish" talk is about... ive done very good on the gills out there. nothing huge but respectable fish. as far as the walleye goes, ive never caught or fished for them in there but see no reason why a 20+ couldn't come out of there, considering the size of some of the pike.
2/9/17 @ 1:09 PM
They're weeds out there you probably just piggy back same spot as masses and your results will reflect that I personally have seen 2 40 inch fish caught here in years past there are plenty of nice (mid to upper 30's ) pike still in here...don't always be negative people just because your perception is different. Good luck
DISPLAYING 1 TO 10 OF 149 POSTS