East Alaska Lake, Kewaunee County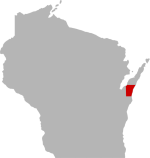 SHARE THIS PAGE
DISPLAYING 1 TO 10 OF 239 POSTS
FILTER OPTIONS
2/16/17 @ 8:13 PM
FISHING REPORT
MOON PHASE (69%)
Waning Gibbous
Ice is nice and thick, my 16" measurement might even be conservative. Had the truck out on the ice with no problem.
We fished in 15-20' of water and had dozens of fish on my Marcum screen, all interested enough to hover around the bait and zoom up off the bottom. But no takers, very actively moving fish, but not actively feeding. Even the 30yr ice fishing veteran fishing nearby only had a couple. Nice way to spend some after school time with my boy though.
1/28/17 @ 3:43 PM
FISHING REPORT
MOON PHASE (1%)
Waxing Crescent
Went out again from 10am - 1pm. Had a dozen crappies, a couple of blue gills and a perch all very small but the 2 kids with me had fun. All fish right on the bottom and we found all of ours between 15-20 FOW.
1/14/17 @ 8:59 PM
FISHING REPORT
MOON PHASE (93%)
Waning Gibbous
Went out with my son today from 3:30p to 5:30 pm in 15 ft of water. Caught about 12 fish 1/2 crappies 1/2 blue gills all really small. All hanging toward the bottom and very picky, can't jig too hard, Preferred yellow jig and waxworm. One tent beside me caught roughly the same, and one on the other side got nothing. Still better than working
DISPLAYING 1 TO 10 OF 239 POSTS