Door County Shore Fishing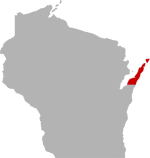 SHARE THIS PAGE
DISPLAYING 1 TO 10 OF 114 POSTS
FILTER OPTIONS
7/26/20 @ 8:28 PM
Hey guys, I am new to fly fishing but I really want to try some carp fly fishing. I heard that Door County is one of the best places to do it. Anyone knows a location ? Its carp, so I would assume people are not protective of their spots :) I am thinking of trying Baileys Harbor. Thanks!
10/21/19 @ 12:44 PM
This really is for people fishing by boat in Door....its duck season please give us a little room when we are hunting from shore. You can fish a lot of water and I'm limited to one shoreline spot that I have permission to hunt from. I've been there for several hours hunting before you even showed up. 75 yards is pretty close and when I asked the two boats that near me they got lippy and refused to move. I was not only trying to keep my hunt from being affected I was asking for your safety to move a little farther away. I really don't like to get a warden involved for user conflicts/ hunter harassment. You are fishing perch and they are schooled and swimming around this time of year. They are not sitting on structure this time of year. If you would move then will swim past that spot as well.
10/17/19 @ 2:43 PM
FISHING REPORT
MOON PHASE (86%)
Waning Gibbous
Yeah...for the "off-season"...this thread is wonderful.
I'm hooked on the Chori-Polo at Old Mexico...but everything we've had there has been great.
That mushroom pizza at Wild Tomato is rich...the "bread basket" appetizer is truly my favorite appetizer anywhere. Comes with the goat milk cream spread that is on the mushroom pizza.
Another great meal to the north...Shoreline in Gills Rock...overlooking the lake...GREAT sunset views and a crock of whitefish chowder on a cool spring/fall day.
If you're ever up over a holiday...the buffet that Harbor Fish Market does is incredible as well.
DISPLAYING 1 TO 10 OF 114 POSTS