Dells Pond, Eau Claire County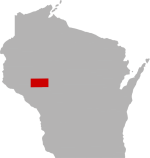 SHARE THIS PAGE
| | |
| --- | --- |
| | @ the lake |
DISPLAYING 1 TO 10 OF 201 POSTS
FILTER OPTIONS
7/27/17 @ 11:42 AM
walleye guy, the platform im speaking about is at domer park. it looks like a 50 ton concrete cube. domer is quite a ways up from the dam. Every catfish i caught at that spot was a channel. i dont get any flatheads until i get up river of chippewa falls.
One spot ive always done well at is below the walk bridge downtown west side of the river. Usually can get ahalf dozen channel cats in the evening.
Cronk
7/27/17 @ 10:42 AM
FISHING REPORT
MOON PHASE (22%)
Waxing Crescent
Cronk,
there is some trails that go down the hill at Mcdonough park that we used to fish and catch walleyes from shore. You can miss the trails if you park at the park. There is one trail that goes down right by the railroad tracks also. It's a steep though.
The concrete pad you are talking about is that the one right next to the dam on the west side? Did you guys mainly get channel cats? We might try it this weekend and see if we can catch some cats down there. We caught a few just down river from the Xcel station where the rock formation is in the park. Never tried closer to the dam before.
7/26/17 @ 1:54 PM
yea walleye guy you are correct. we used to fish it up where the power company road cuts in but now its closed off. the spot with the old platform slab has not been as good for us. the place we do best is the spot to the far right. however thats the best place to fall in and drown too. gotta be careful there. i saw some photos from before the dam was built and there are huge square structures all over in front of domer. imagine a 10x10 crib but about 10 feet tall. I was told they were used by the loggers to stand on and work the timber. either way there must be 20 out there and im sure the fish dig them.
I was just looking for a spot to fish the pond from shore that would produce something besides catfish. i cant seem to get away from them.
Cronk
7/26/17 @ 12:11 PM
FISHING REPORT
MOON PHASE (14%)
Waxing Crescent
Cronk,
where you fishing the structure by the park for cats? I think that's part of the old dam we used to get a few walleyes in there very Snaggy. I think they have had a couple bad spawns we used to catch a lot of small eyes on the pond now they are few and far in between. Up the river can be good just a lot of boat traffic up there.
DISPLAYING 1 TO 10 OF 201 POSTS