Decorah Lake, Juneau County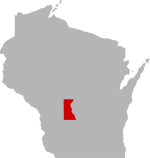 SHARE THIS PAGE
DISPLAYING 1 TO 10 OF 154 POSTS
FILTER OPTIONS
2/7/19 @ 5:10 PM
FISHING REPORT
MOON PHASE (7%)
Waxing Crescent
Fished from 9 AM to 1 PM. Went off boat landing on highway 12/16. Fished in 6-1/2' water. Ice thickness 10". Caught 3 nice 11" crappie and released some smaller ones on waxies. Lots of action on flasher but most wouldn't bite.
1/9/19 @ 9:20 PM
Looked pretty rough this afternoon. There was an open patch about 100 yards off the boat launch today. Lower part of the lake the channel is wide open. I only saw the one open spot in that bay and not too Familiar with that lake. A lot of people driving in and checking out the ice and saying the same thing I am.
12/29/18 @ 7:55 PM
FISHING REPORT
Checked out Decorah Lake in Mauston yesterday 12-28-18 by the boat landing on highway 12/16. There was open water in the middle and ice next to shore was unsafe in some spots. I would not chance it. Need a week or 2 again of cold weather to make ice.
1/7/18 @ 6:32 PM
FISHING REPORT
MOON PHASE (62%)
Waning Gibbous
Did anyone hear if there were any large fish registered during the tournament?
Fished a couple hours today, caught a few of the typical 7 inch bluegills.
1/3/18 @ 10:52 PM
1st Annual Lake Decorah, Lake Restoration Ice Fishing Tournament
Saturday, January 6, 2018
Tournament Registration 6am-11am
Pre-Registration at Mauston Public Works, Monday thru Friday 8am-4pm
Fish Registration up to 2pm At Riverside Park by City Boat Launch
Fish from New Lisbon Dam to Mauston Dam
$20 Entry Fee, No Refunds
Drawings for 50/50, Gun/Bow Sports Raffle and Bucket Raffles will be starting at 3pm
Beer Tent and Food Gardens open from 9am-4pm
Live Remote with WRJC!
For More Information Call 608-847-4070
Five Categories
Perch
Northern
Crappie
Bluegill
Bass
Cash Prizes Per Category
1st Place $75
2nd Place $50
3rd Place $20
DISPLAYING 1 TO 10 OF 154 POSTS