Decorah Lake, Juneau County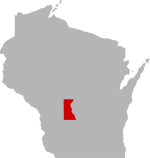 SHARE THIS PAGE
| | |
| --- | --- |
| | @ the lake |
DISPLAYING 1 TO 10 OF 159 POSTS
FILTER OPTIONS
1/25/20 @ 7:25 PM
FISHING REPORT
MOON PHASE (1%)
Waxing Crescent
Fished on the Kmart side a couple of hours this morning. 2 crappies and 1 bluegill. No other bites. No one else out on this side. Looked like about a dozen people out on the Hwy 12 side, so assuming they're doing better over there. Or maybe it's just a shorter walk through the snow and slush.
1/16/20 @ 8:10 AM
FISHING REPORT
MOON PHASE (59%)
Waning Gibbous
Fished in 5 to 6' of water off highway 12/16 boat landing for about 5 hours. Only 1 small crappie. Not marking anything. If you do mark a fish on bottom, the don't bite. Very very slow. Even in shallows they are not getting anything. Had 2 tip ups closer to shore and not a single flag.
12/28/19 @ 9:59 PM
FISHING REPORT
MOON PHASE (7%)
Waxing Crescent
Still solid 6-7" of ice off boat landing off highway 12/16. Nice 22" largemouth caught on tip up in shallows. Caught some nice size bluegills on waxies but you really need to work for them. Fished in 2-3' of water. No crappies. Need to fish deeper 6-7'.
2/7/19 @ 5:10 PM
FISHING REPORT
MOON PHASE (7%)
Waxing Crescent
Fished from 9 AM to 1 PM. Went off boat landing on highway 12/16. Fished in 6-1/2' water. Ice thickness 10". Caught 3 nice 11" crappie and released some smaller ones on waxies. Lots of action on flasher but most wouldn't bite.
1/9/19 @ 9:20 PM
Looked pretty rough this afternoon. There was an open patch about 100 yards off the boat launch today. Lower part of the lake the channel is wide open. I only saw the one open spot in that bay and not too Familiar with that lake. A lot of people driving in and checking out the ice and saying the same thing I am.
DISPLAYING 1 TO 10 OF 159 POSTS