Decorah Lake, Juneau County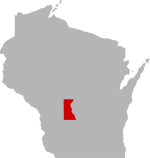 SHARE THIS PAGE
DISPLAYING 1 TO 10 OF 162 POSTS
FILTER OPTIONS
FISHING REPORT
There was about 2 inches when you first go out on the dump side, and it was a little creaky, but passable over the shallow water there (stay to the right if you're going to try it). Once you get to the fishing area, there's a little over 3 inches now. Others had tipups out, bass biting pretty good. Saw one 29" northern caught. Slow bluegills on the jig pole, and a couple bass hitting that as well.
FISHING REPORT
Fished on the Kmart side a couple of hours this morning. 2 crappies and 1 bluegill. No other bites. No one else out on this side. Looked like about a dozen people out on the Hwy 12 side, so assuming they're doing better over there. Or maybe it's just a shorter walk through the snow and slush.
FISHING REPORT
Fished in 5 to 6' of water off highway 12/16 boat landing for about 5 hours. Only 1 small crappie. Not marking anything. If you do mark a fish on bottom, the don't bite. Very very slow. Even in shallows they are not getting anything. Had 2 tip ups closer to shore and not a single flag.
FISHING REPORT
Still solid 6-7" of ice off boat landing off highway 12/16. Nice 22" largemouth caught on tip up in shallows. Caught some nice size bluegills on waxies but you really need to work for them. Fished in 2-3' of water. No crappies. Need to fish deeper 6-7'.
DISPLAYING 1 TO 10 OF 162 POSTS