Dairyland Flowage, Rusk County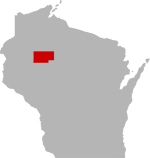 SHARE THIS PAGE
DISPLAYING 1 TO 10 OF 470 POSTS
FILTER OPTIONS
FISHING REPORT
Fished Thursday-Saturday. 4" inches of ice everywhere I checked. Fished shallow from 8fow-4fow. Caught 3 small eyes and 4 mudpuppies on small suckers. Unfortunately the blizzard Friday night came on fast and I lost track of one of my round Beaver Dams. Hopefully someone finds it when the snow melts. My loss is your gain.
Greetings Anglers! I come to ask for advice on a spot to ice fish on the flowage this weekend or next. There is a hump that comes up to 10 fow Southwest of Leonard Ln that I was thinking of fishing for walleye and pike with tip ups and maybe jigging the drop off at 15-20 fow for crappies/panfish. Has anyone tried this spot? I've had luck here in the summer.
In exchange for advice, I'll tell a story that I've told to very few about this body of water...
It was 2011 and I was 13 years old, staying at a cabin that a friend's parents own on the North side of the flowage east of the bridge by Cty Rd I. My friend and I fished all day, every day for the whole weekend. We caught quite a few sizeable catfish and did well on walleye at sun up and sun down. On Saturday morning that weekend I was up before everyone else - it was probably 6 am. I had a catfish rig set up with a 2 oz egg sinker and a 2/0 circle hook. I was about to throw out a night crawler when I saw a frog hopping along the shore. I thought "why not?" Then grabbed the frog and put it on the circle hook. I threw it out just past the line of pads about 30 feet out. The water couldn't have been much deeper than 8 fow in that spot. Right away I got a strike...
I proceed to fight the fish for about 15 minutes, screaming for my buddy to wake up and help me out. He finally gets up and gets in the water to help land the fish. We both were thinking it was a giant catfish at that point. I finally get it pretty close to shore, trying not to get it snagged up in the lily pad stems. I get it within reaching distance of my friend and he said something like "dude, this isn't a catfish". We get it out of the water and on the shore. I didn't know much about what was a good fish at the time as I had only fished for small panfish, catfish, and the occasional walleye but had ran into a few different species here and there fishing in the Chippewa River. Sure enough, it was a huge, huge smallmouth. I had a measuring tape on me and measured it at 28".
I didn't think much of it at the time, but I know now that I may have caught the world record smallmouth at the Dairyland flowage that weekend in 2011.
Thanks for reading guys. Maybe that fish is still swimming. I'd appreciate any advice I can get but I'm glad to finally share that story. Tight lines everyone.
FISHING REPORT
Fished the flowage from Jan 7 to Jan 16. Tipups with shiners and suckers. Most of the action was at first light and last light. Caught more walleyes than northerns this trip. Walleye size ranged from 10 to 17 inches. Also caught the usual couple of muskies. One was in the mid 30 inch range. Tried jigging for perch and crappie in 20+ feet but no luck.
DISPLAYING 1 TO 10 OF 470 POSTS