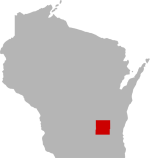 SHARE THIS PAGE
| | |
| --- | --- |
| | @ the lake |
COVID-19 MESSAGE
At Kwik Trip / Kwik Star, the well-being of our coworkers and our customers remains our top priority.
All of our stores remain open to service you.
Please read our message to our guests.
DISPLAYING 1 TO 10 OF 18 POSTS
FILTER OPTIONS
2/25/15 @ 2:52 PM
The first small parking lot on Hubbleton road after turning right off of G, would only be a short walk to Chub. Mud would most likely be better, the parking lot right after the bridge on G. Johnson's bay is up over the big hill by the 2nd parking lot on Hubbleton road, which is also worth trying. In my opinion... 1-Mud 2-Johnson's bay 3-Chub.
2/19/15 @ 10:26 AM
FISHING REPORT
MOON PHASE (1%)
Waxing Crescent
I heard Mud lake which is right next to Chub was a little deeper. I went out about a month ago and drilled holes all over the lake. 18" of ice and 18" of water in every hole. Caught 2 hammer handles and had a couple drops on walleye rigs. Looks like it would be a good early ice and late ice spot. Good amount of old holes around. Will be exploring this and the incoming rivers this spring in the boat. Looks promising can't wait
11/20/14 @ 9:07 AM
FISHING REPORT
MOON PHASE (4%)
Waning Crescent
Recently made a move across the street from Chub. Had some decent luck in October, curious if anyone ice fishes on chub. I haven't seen anyone try it yet this year, but some good fish are swimming in there so I may give it a shot since it is walking distance.
DISPLAYING 1 TO 10 OF 18 POSTS